This dot to dot art challenge for kids is a great way to build concentration and fine motor skills while creating a beautiful artwork. It's also a fun way to prevent the kids paintings from becoming muddy and paint mixed. Post written by Meri Cherry.
Did you ever do a painting with your child and before you knew it, it was one big brown moosh?
Yup, I'm familiar with that too.
The Dot to Dot Art Challenge is a great way for kids to build concentration and fine motor skills while creating something beautiful.
Keep reading to see how it's done.
Dot to Dot Art Challenge for Kids
Here's what you'll need…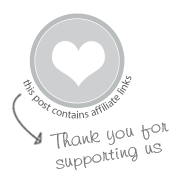 Materials
paper (thick paper like watercolor paper is ideal, but any paper will do)
masking tape

How to do the art challenge
1. Tape your paper down with masking tape creating a border around each side. This will make the perfect frame when your painting dries.
2. An adult or child can squeeze about 20 drops of paint onto the paper.
Now time for the challenge.
The artists job is to cover the entire paper with color without letting any two colors mix. In other words, blue can't touch red and red can't touch yellow. They can get really close but only the same colors or dots are allowed to touch. We said only the same colors can kiss because they love each other so much.
I demonstrated the challenge on my own paper before the kids got started. I showed them how the pink traveled slowly all over the paper to kiss all the pink dots and sometimes it had to jump over a bridge ( a line of a different color) to get to another pink dot.
When these 4 year olds got working you could here a pin drop. The concentration was intense with the occasional kissing sound as pink touched pink and blue touched blue.
3. When all the white is covered on your paper you can peel the painters tape off the sides of the paper to create your frame. Set it aside to dry. You can also peel it after your paint is dry. These kids were pretty anxious to peel that tape and see their frame. It's always very satisfying to see that perfect frame. Very profesh.
*Note* If your paper is too thin the tape may rip as you pull it off, therefore I recommend using a nice watercolor paper that can hold under the tape without peeling or ripping.
That's how we did our Dot to Dot Art Challenge. This was such a success I tried it with different age groups on canvas with neon acrylic paints. It worked really well and was so interesting to see the difference between the 2's, 3's and 4's work. The process and results were pretty fantastic.
If you like this idea you might also like these family portraits that are great for the same age group.
Thanks for reading along everyone and thanks for having me over here today, Artful Parent. xo Meri Cherry
About the Author
Meri Cherry, yes, that's her real name, is an arts and crafts blogger at mericherry.com. She lives in Los Angeles with her husband and two young daughters.
Meri is an art teacher and designer of art spaces for kids. She is passionate about the process of art, thrift stores, and the Reggio approach to learning.
Jean's Favorite Posts on Meri Cherry
Pin it for Later