Want to learn how to draw facial features more accurately? Gary Faigan, drawing instructor, teaches us to draw the underlying pattern of the face first. This is a review of an online art class by Bluprint.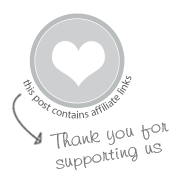 Remember how much we all got out of that printable on drawing faces?
Well, after drawing some faces with that, I decided to take an actual class on how to draw facial features to see the techniques in action and to dive more in-depth into portrait drawing.
The class is another online drawing class on Bluprint, which means that I've been able to take it at my own pace, from the comfort of my own home. As before, this post was sponsored by Bluprint (formerly Craftsy); all opinions expressed are my own.
Gary Faigin, the instructor for this facial features drawing class, is also the co-founder of the Gage Academy of Art and the author of The Artist's Complete Guide to Facial Expression.
He SO knows his stuff!
Just the very first two lessons were game changing for me.
How to Draw Facial Features with an Online Bluprint Class
Gary teaches that drawing the patterns of the face—the skull shape, the eye sockets, the nose area—will result in a more accurate and recognizable portrait than if you start with the details (such as the eyes) and go from there.
In fact he demonstrated that everyone has their own face pattern and that we can recognize ourselves and those we know by general facial patterns even when no details are present.
"Your sketches will improve as you train your eye to follow the lines of the skull." – Gary Faigin
Talking about the skull structure underneath, he showed that we need to learn how to draw it so that we can learn how to draw facial features better. And he illustrated this by drawing the skull of a full-size skeleton he had at hand (Mr. Bones) and also by sketching the imagined skull of his live model side by side with the portrait.
Now, this class was all about how to draw facial features, so obviously he taught how to dive in and get the details right—the eyes, nose, ears, lips, etc.
But, he reiterated that we need to start with the general pattern of the face and understand the bone structure underneath so that the finished portrait is more accurate.
"The secret to portrait drawing is not the thing itself, but the thing in relationship to everything else on the head." – Gary Faigin
Here are some photos of what the kids and I have been drawing, inspired by this class…
Skeletons and skulls…
A sugar skull…

Some experimenting with vine charcoal…
A self portrait…

With lots of detail, both observed and imagined.

And another self portrait.
Want to learn how to draw facial features better or do you know someone who does?
Then I recommend you sign up to take this Bluprint class! It is excellent! Click the link below to learn more or sign up.