You can melt beads to make suncatcher hearts, stars, words, shapes, and more if you string them on thread or wire first. Here's an easy tutorial and photos.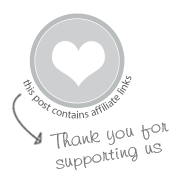 We've been experimenting like crazy with melted bead suncatchers lately. First Maia's spiral, then our free form melted bead art lovelies, then these heart suncatchers this weekend (as well as a few other super cool melted bead ideas I'll share later this week).
These heart suncatchers would make amazing Valentine's Day gifts, but of course hearts are great any time of the year.
Here's how we made our heart suncatchers (inspired by one that our friend Mercy made when she was over last week).
How to Melt Beads to Make Suncatcher Hearts
MATERIALS
Translucent pony beads

Glitter pony beads

Embroidery floss
Embroidery needles
Jewelry wire
Suction cups with hooks
Heart #1 – Melt Beads to Make Free-Form Suncatcher Hearts
Step 1. String beads on thread or wire
First, we strung translucent pony beads and glitter pony beads on embroidery thread (using large embroidery needles), tying off both ends around a bead to hold them all in place.
Step 2. Arrange beaded string into heart shape
Then we arranged our string of pony beads into a heart shape on a metal cake pan. We've done this with just the outline of the heart, but I especially like how it looks when we loosely fill in the heart with swirls and curlicues of the bead strings.
As you can see I've started lining the pans with aluminum foil when making melted bead suncatchers.
It peels off the suncatchers easily once they are cooled and hardened. And it means you can use any metal pans, even nice new ones, without leaving any residue from the plastic beads. The reason I started doing this is that I noticed the plastic beads would leave a little residue on my old metal pans, and if I kept reusing the same pan for melted bead suncatchers, I started having a problem removing the suncatchers.
Step 3. Melt Beads
Then I melted the beads on the grill outside, as always. I left this heart on a little too long and the plastic spread out really thin and started bubbling.
My usual policy on the grill is to give the suncatcher 5 minutes at high, then check every minute or so.
In reaction to that overcooked heart, I took this one off a little early, while many of the beads still held their basic shape.
I really like how it looks!
This batch of translucent pony beads are glitter beads. See the glitter?
Heart #2 – Melt Beads to Make Suncatcher Heart Outlines
Step 1. String beads on wire
Maia decided to make a heart suncatcher by stringing red beads on thin jewelry wire. She strung them on while the wire was straight, then I helped her shape it into a heart on the pan.
Step 2. Shape into heart
Step 3. Melt beads to make suncatcher
This one melted beautifully!
She made it as a gift for a special grandma to hang in her window. She wrapped it in bubble wrap and is sending it off across the country with her love.
By the way, we haven't had to drill holes for hanging with these suncatchers. We've mostly been hanging them with window suction cups that have little hooks that we just loop through open areas of the suncatchers.
If you haven't made melted bead suncatchers yet, I highly recommend it! It's so fun and the the results are just beautiful!
If you're looking for more ways to melt beads to make suncatchers, try some of these:
Pin It for Later