Melt beads to make suncatcher hearts, stars, words, shapes, and more if you string them on thread or wire first. These melted bead suncatcher hearts are a perfect Valentine's Day activity!
Updated December 2021
We are always experimenting like crazy with melted bead suncatchers. Typically, we fill muffin tins or cookie cutters to create solid shapes. But this variation uses string or wire to create free form shapes!
These suncatcher hearts would make amazing Valentine's Day gifts, but of course hearts are great any time of the year.
Here's how you can make two different kinds of heart suncatchers.
Important Safety Note: Melting plastic is not good to breathe, so this step is best done outside.
We always make our melted bead suncatchers outside on the gas grill. It works great and only takes about 10 minutes! Some readers have suggested using a toaster oven outside, which may be another good solution.
Suncatcher Hearts for Valentine's Day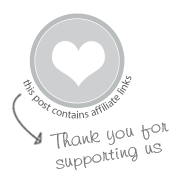 MATERIALS
INSTRUCTIONS
String beads on thread or wire

First, string translucent pony beads and glitter pony beads on embroidery thread (using large embroidery needles). Tie off both ends around a bead to hold them all in place.



Arrange beaded string into heart shape

Next, arrange your string of pony beads into a heart shape on a metal cake pan. We've done this with just the outline of the heart, but we especially like how it looks when we loosely fill in the heart with swirls and curlicues of the bead strings.



As you can see, we've started lining the pans with aluminum foil when making melted bead suncatchers.
It peels off the suncatchers easily once they are cooled and hardened. And it means you can use any metal pans, even nice new ones, without leaving any residue from the plastic beads.

Melt Beads

Then melt the beads on the grill outside. Our usual policy on the grill is to give the suncatcher 5 minutes at high, then check every minute or so.



We left this heart on a little too long and the plastic spread out really thin and started bubbling.
Because the first one was left on the heat a little too long, we erred on the side of caution with this one. You can see that some of the beads have retained their shape!
Another option for heart suncatchers
If you want less of a freeform heart, and more of a traditional shape, you can use jewelry wire instead of embroidery thread to string your beads. String the beads on while the wire is straight, then shape it into a heart on the pan. Melt on the grill as you would with any suncatcher.
If you're really feeling the heart theme, you can also just arrange pony beads onto your pan in the shape of a heart and you'll get a beautiful solid shape!
We've discovered that window suction cup hooks are perfect for these suncatchers! You just have to loop the hook through an open area of the suncatcher.
If you haven't made melted bead suncatchers yet, we highly recommend it! It's so fun and the results are just beautiful!
People Also Ask:
Is melting beads in the oven safe? No, melting plastic beads in the oven can create toxic fumes. It is best to do this project outside, either on your gas grill or in a toaster over you bring outside. Creating these suncatchers outside allows all the fumes from the melting plastic to dissipate in the air.
More Melted Bead Suncatcher Activities
Pin It for Later