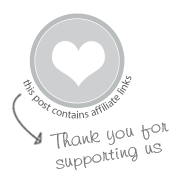 This little green crate holds so much art fun inside, and I have to admit I would never have guessed it.
I've always been a total do-it-yourselfer and if I saw an art kit in one aisle, I'd go down the next and seek out all the individual items that I might need for whatever art project is on our list.
So when a PR company offered to send me a Kiwi Crate kit, I was skeptical but curious.
I am skeptical no more. Seriously good fun was had (and is still being had) by both kids.
Take a look at all that was packed into this box ::
This particular Kiwi Crate was all about exploring colors (there are different themes and you can subscribe to receive them in the mail once a month). It included all the materials needed to create contact paper stained glass windows, design-your-own spinning tops, and a bleeding tissue paper dyed canvas bag.
Contact paper stained glass is an oldie but a goodie in the world of art activities. But they made it even better by supplying sturdy frames (of the probably hundreds of suncatchers we've made, I don't think any have ever been framed quite so nicely) and by sending colored film in addition to tissue paper.
Why haven't I explored film before? A complete oversight on my part! It is on my list for next time I shop for art supplies…
Also included in the crate were two spinning tops, several papers to fit over them, a set of little markers, and instructions for "spinning colors."
The girls colored and scribbled on the paper covers, added them to the tops, and spun them to watch how their designs looked in motion. This was a completely new project for us and so interesting!
This bag was apparently a "bonus" project (each crate is supposed to hold two main activities).
Maia used the provided bleeding tissue paper squares and dropper to dye the plain canvas bag. The right-hand image shows the bag with the wet tissue squares still on it; the colors aren't quite as dark once you pull off the squares. And, as we learned the hard way, the colors won't last once the bag is washed. But since it's a bag and not a t-shirt, perhaps it won't be washed, at least not for a while.

Another fun bonus was this set of blue film glasses for viewing the stained glass and the world.
I may be a convert to kids' art kits.
Or at least to the Kiwi Crate.
There was so much fun packed into the box and their choice of projects, easy-to-understand instructions, and ready-to-use art materials made it so easy for my kids to create and enjoy these activities.
This would make an awesome gift to receive under the tree or in the mail.
The website says these kits are for ages 3-6. My 2 year old got as much out of it as my 6 year old, though (and I can easily see a 7 or 8 year old enjoying this particular kit, although I can't speak for their other kits).
If you're interested in getting Kiwi Crate for your kids, you can get a one time crate or a subscription. Here are some of the options…
Kiwi Crate Options
Try a single Kiwi Crate
Try a monthly subscription (3 months, 6 months, 12 months…)
See the Kiwi Crate gift options
Learn more about Kiwi Crate
Pin It for Later
Disclosure :: The Kiwi Crate was sent to me for free by a PR company, however all opinions expressed are entirely my own.