Here's how to make portable art kits for kids. They are easy to create, fun to use, and great for family travel.
Updated July 2023
It can be hard to keep kids entertained while on a road trip or vacation. We've found that making portable art kits can make traveling with kids a little bit easier, and more fun for everyone!
Some of these kits are more freestyle (a few art materials gathered together in a small bag or basket) and some can be more formal (an elaborate sewn art portfolio with pockets for markers and crayons).
But we think we've come up with the perfect portable art kit: a slim hard carry case that doubles as a lap desk, paper, and a selection of low-mess, washable art materials.
Here's how to make one!
DIY Portable Art Kits for Kids
A big thank you to Kwik Stix for sponsoring this post; as always all opinions expressed are my own.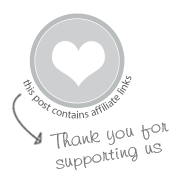 MATERIALS
*Kwik Stix are a low-mess alternative to paint. They are basically tempera paint in a solid stick form. The color glides onto the paper very smoothly, a bit like oil pastels, but the paint quickly dries to a hard, smudge-free paint surface. And the colors are wonderful and vibrant!
INSTRUCTIONS
Stock your container

If you use a storage container that is roughly 9×12, the art supplies will easily fit inside. And the case doubles as a lap desk, which is especially handy for the car or waiting rooms.



Add straps (optional)

If you'd like to keep the pad of paper or sketchbook secure on top, you can create stretchy straps out of fold-over elastic.


Each piece of fold-over elastic was 22 inches in length, and we tied the ends together to create a sort of giant rubber band. You could probably also use regular elastic, elastic string, or even a giant rubber band.

Enjoy!

Your portable travel kit is done and ready to be used!

Before you travel for vacation, whip up one of these for your kids. They can be used in the car, in the hotel room, in the restaurant, etc., without any worry about messes. 
One for each child would be great or if you want them to share a box, hard clipboards to use as a drawing and writing surface for each child might be good.
Variations by Age
You could even add a few printable art activity pages, some DIY art activity pages, or art game instructions.
Would your kids enjoy a portable art kit to use wherever they go?
More Travel Tips and Activities for Kids
Pin It for Later
Thanks again to Kwik Stix for sponsoring this post; as always all opinions expressed are my own.