Cherry hand pies are delicious any time, but they're especially perfect for Valentine's Day when you shape them into hearts.
Here's my recipe, adapted from my all-time favorite cherry pie recipe ::
Heart-Shaped Cherry Hand Pies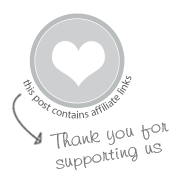 Makes approximately 1 dozen. Doubles easily.
INGREDIENTS
1 can red tart cherries in water; reserving half of the liquid (I buy Oregon Fruit Products, usually sold in the canned fruit section rather than with the canned pie fillings in the baking aisle)
2 tablespoons cornstarch
1/3 cup sugar, plus extra for sprinkling
Scant 1/4 teaspoon of almond extract
1 recipe pie crust (see below, or buy if you prefer)
Egg wash (1 egg whisked with 1 tablespoon water)
INSTRUCTIONS
1.  Mix the cherries, half the liquid from the can, sugar, cornstarch, and almond extract in a heavy-bottomed pan. Cook over medium heat, stirring regularly, for 8-10 minutes or until the liquid turns thick, gels, and bubbles. Remove from heat and let cool.
2.  Preheat oven to 425 degrees F and line 2 cookie sheets with parchment paper. Also, bring the pie crust dough out of the fridge to soften slightly (15 min).
3.  Roll out half of the pie crust on a floured surface. Use a 3 inch, heart-shaped cookie cutter to cut hearts out of the dough. Transfer to parchment-paper-lined cookie sheets.
4. Spoon a couple tablespoons of cherry filling onto the center of each heart.
5. Cover each with a second dough heart. Press the edges closed with fork tines.
6.  Use a sharp knife to cut an X (for a kiss) in the top crust.
(Alternately, use a tiny heart cookie cutter to punch a heart out of the center of the top crusts, before placing them over the filling.) Brush each hand pie with egg wash, then sprinkle with sugar.
7.  Bake for 20 minutes, or until crust is golden brown at edges.
8. Enjoy warm or at room temperature.
Pie Crust Recipe for Cherry Hand Pies
PIE CRUST INGREDIENTS
3 cups flour (I use half white whole wheat flour and half all-purpose flour) or pastry flour
1/2 teaspoon salt
2 tablespoons sugar
1 cup butter (2 sticks), sliced into tablespoons
12 tablespoons ice water
PIE CRUST INSTRUCTIONS
1.  Mix dry ingredients in a food processor. Add half the butter slices, pulse a couple times, then add the other half. Pulse several times. Or, you can cut the butter into pea-sized pieces with a pastry cutter or knife and fork.
2.  Pour flour mixture into a large bowl. Add ice water, 3 tablespoons at a time, using a sturdy rubber spatula to alternately mix and press it in between water additions. Use the spatula or your hands to bring the dough into a loose ball.
3.  Divide the dough in two and wrap each section in plastic wrap. Knead slightly within wrap to create a more cohesive ball. Chill in the fridge for at least 30 minutes.
More Delicious Recipes to Try
Pin It for Later ::