Ever find your kids loving a toy for one season and then completely ignoring it the next?  We go through that all the time.  Sometimes I'll give away the unused toys. Other times I store more special toys away for a bit and then pull them out later.
Recently I found an old set of Magformers.  With the shorter days and longer nights, I'm on a constant lookout for easy ways to create art with my older son.  After staring at the Magformers for a bit I had a lightbulb moment.  They looked like tiny frames!  And what do tiny frames cry out for?
Tiny art!
Hi! My name is Leslie and I usually blog over at Pink Stripey Socks.  There I share tons of colorful art and craft projects to help you create and connect with your kids.  I'm so thankful that Jean invited me over today to The Artful Parent to share this simple mini Magformer art project.  Hopefully you and your family enjoy trying it out together!
Tiny Art Framed by Magformers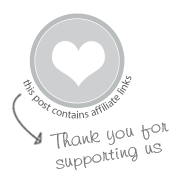 Here are the materials you'll need:
Scissors
Paper (We used watercolor paper)
An assortment of drawing supplies (We used watercolors, sharpie markers, and pencils)
Clear tape (optional)
Ready to make and frame some tiny art? It's time to create!
INSTRUCTIONS
Step 1:  Trace your Magformers onto a sheet of paper.  Cut out your traced squares to create a bunch of tiny blank canvases.
(We typically paint on larger sheets of paper, so it was a fun and new experience to create mini works of art.)
Step 2:  Draw, doodle, or paint designs onto your papers.  
Feeling uninspired?  Try peeking around the internet, or read some picture books about different artists.
Step 3:  Once you're finished, slide your paper between two Magformers to instantly frame your works of art.
You can use your mini works of art to decorate your refrigerator.
Or, you could also try building with them.
You'll find that the Magformers connect differently now that you're using pairs to build.
If you want to create more complex structures, simply tape one of your mini artworks to one Magformer.  Now you should be able to build normally.
Hopefully this art project breathes new life into some old toys.  Happy making, friends!
About the Author
Leslie is a SAHM of two boys who loves gerber daisies and the color yellow.  She blogs over at Pink Stripey Socks. There, you'll find tons of easy and colorful art and craft ideas for families including ::
Family Watercolor Hand Print Art
Rainbow Paper Plate Weaving Project
Pin It for Later