Have you tried painting on coffee filters with watercolor paint? The paint colors spread readily, which makes it a fun activity for kids to do with either brushes or droppers.
We recently did some coffee filter painting in Christmas colors, then used them to make a Christmas garland which we LOVE.
Here's how…
A Coffee Filter Garland for Christmas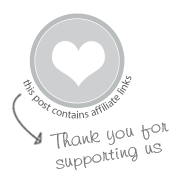 MATERIALS
INSTRUCTIONS
First we painted the coffee filters, using our liquid watercolors (regular watercolors or even food coloring would work as well).
We used red, green, silver and gold paints. The metallic watercolors added a lot.
After the painted coffee filters dried, we folded them in half and glued them over a ribbon.
Here are the finished garlands! You can use them to decorate the house or the tree.
Let me know if you make this coffee filter garland —I'd love to hear!
Pin it ::
P.S. For more detailed step-by-step directions for this coffee filter garland and for four other simple holiday garlands, read my December column for WNC Parent magazine. Click here, enter page 48 in the search field at the top, then click on the actual page in order to make it large enough to read.