Set up a Christmas card making station for kids and try these 6 homemade Christmas card ideas using fun arts and crafts supplies.
Updated October 2022
We like to send out Christmas cards every year, soon after Thanksgiving. It's one of our favorite rituals of the year. And we try to get the kids involved as much as possible.
A big thank you to Kid Made Modern for sponsoring this post; as always, all opinions expressed are mine.
Try setting up a Christmas card making station at a table where your kids can work at any time – all together, with friends, or individually when the urge or inspiration strikes.
And if you're not sure where to start or what materials to leave out, try these 6 Christmas card ideas!
Basically, every card is a mini artwork that you can send out to family and friends with a little note.
Christmas Card Ideas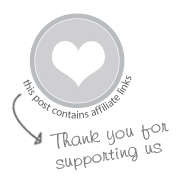 MATERIALS
*We used the Smarts and Crafts Sparkle Stash Craft Kit by Kid Made Modern which is no longer in stock, but any of their arts and crafts kit will be fun! You can also use any of your favorite 3D craft supplies.
Note: For these cards, we like to tape down all of the edges with masking or washi tape. This keeps the card stable as we work on it, and creates a nice, crisp border for your artwork.
1. Paint with Watercolors
Create a mini watercolor artwork, such as this rainbow painting above, and embellish with glitter tape.
2. Embroider a Picture
Use glittery embroidery thread and an embroidery needle to sew a Christmas tree or other design onto sturdy paper. Paint or color in the picture, then glue on sequins to decorate.
3. Write with Tape
Use glitter tape to write a message, such as "Merry Christmas!"
4. Sequins!
Sew sequins onto sturdy paper with embroidery thread and needle to create pictures or designs. Or you can glue them, too.
5. Tape Resist Art
Make tape resist art. You can make abstract designs such as the artwork above or use the tape resist to make Christmas trees or other pictures.
6. Salty Watercolors
Sprinkle salt on wet watercolors to create a snowy scene or a starry night sky effect. Once dry, rub the extra salt off and draw additional details as desired.
We've made a lot of Christmas cards using these techniques! Some of them are made directly onto folded over cardstock (essentially a blank card) and some of the mini artworks get glued to blank cards.
To make the note-writing part easier and more fun for kids, you can also have each child write one note, then photocopy it to insert into all of their cards.
How about you? Would you consider setting up a Christmas card making station like ours and getting the whole family in on some creative card-making?
More Holiday Crafts for Kids
Want even more creative ideas?
Check out our Holiday Creativity pack!
Let's celebrate the holidays with all things crafty! Here are 53 pages full of our favorite drawing prompts, creative play ideas, art activities, and more!
Pin It for Later
Again, thank you to Kid Made Modern for sponsoring this post; all opinions expressed are my own.