Learn how to make a gingerbread house with graham crackers and host a party for festive fun!
Last year I started a new holiday tradition because we needed something festive, social and fun enough that even my tween would have a good time.
We invited some friends over and blasted holiday music. Then we spent the next couple of cheerful hours decorating a whole village of gingerbread houses. 
My secret to a stress-free good time? Graham crackers!
Hosting a gingerbread house decorating party might sound intimidating, but it doesn't have to be! With a few easy shortcuts and a little preparation, it can be a very merry celebration that everyone from toddlers to teens can enjoy!
How to Make a Gingerbread House
These easy "gingerbread" houses can be assembled days or even weeks ahead of time, making your party preparations totally relaxed.
I typically like to do this part on my own (but your kids can certainly help too). While I watch The Great British Baking Show (holiday edition, of course), I mix, cut and assemble at my leisure.
MATERIALS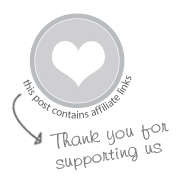 Graham crackers: 5 full sheets per house
Royal Frosting for "gluing" the houses together
Paper plates
Paper cups
Popsicle sticks
Frosting for decorating: Use store-bought for a simple shortcut, 1 tub for every 4 houses
Candy (You can make life easy on yourself and ask your guests to each bring a bag. Or use leftover Halloween candy!)
Cut the graham crackers to size

Use a sharp knife with firm pressure to make your cuts.  I've found that some graham cracker brands are sturdier than others. I had great luck with the Aldi  brand this year. 


Save your scraps for snacking or a graham cracker crust!

Make your "glue" frosting

I make a simple royal icing to assemble the houses.  It's easy, quick-drying, and super sturdy.  The basic ratio is as follows:

1 Tb meringue powder (I know it's a strange ingredient, but it's worth it! A big tub will last you forever and it's so much easier than messing with egg whites)
1 cup powdered sugar
2-3 Tb cold water 


Mix your ingredients together until you have the consistency of toothpaste, adjusting the water/powdered sugar ratio as needed.

Assemble the gingerbread house

Scoop some of your "glue" frosting into a plastic bag and snip off one corner. 

Pipe generous lines of frosting wherever house pieces will meet. 
Hold pieces together for 5 seconds before moving on to the next section. 
Let each house dry for several hours for maximum sturdiness.

Now it's time to party! 


Set each gingerbread house on its own paper plate next to an individual cup of frosting with a popsicle stick for spreading.  

Decorate

Distribute the candy in bowls around the table, turn up the Christmas music, and get ready for a good time!
We hope you give this Christmas activity a try with loved ones. And if you're looking for more easy Christmas crafts & activities for kids, we've got you covered!
More Easy Christmas Ideas for Kids
Pin it for Later