This Autumn tree art project for kids combines leaf prints, leaf collage, and washi tape trees for a seasonal mixed-media art activity.
Updated August 2021
We love having simple art projects set up for when our kids most need them (think – after school, before dinner, while younger siblings nap). This one isn't on the cheat sheet of activities, but rather incorporates a few different art materials and techniques such as washi tape art, simple printmaking, and collage for kids.
This Autumn tree art project is super simple but a lot of fun. And kids of all ages will enjoy making trees with washi tape!
How to Make Autumn Tree Art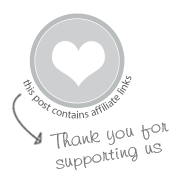 MATERIALS
INSTRUCTIONS
Create your tree

First, use colored masking tape to create your trees. Feel free to use any colors you'd like! Trees don't have to be brown or gray.



Collect leaves

Go on a leaf hunt and gather all the different small leaves you can find. Get out your stamp pads, too!



Stamp leaves!

Press your leaf into the stamp pad, and then press it onto your washi tape tree. Leaves with texture, like sage leaves, will make great prints!



Glue on leaves, too.

You can also glue some of your leaves onto your tree.


Here's a detail of a finished tree with leaf prints and collaged leaves. And if your kids' trees have a lot of fingerprints, that's ok! We think fingerprints look quite leaf-like as well.
How about you? Have you been doing any Autumn tree art? Any autumn crafting?
Autumn Arts & Crafts Ideas & Supplies
Download our FREE printable idea list of 30 autumn activities for kids & families! Or check out the blog post with the links. So many fun ideas for fall!
And be sure to check out our FALL family fun list in our Amazon store! It includes supplies for fall arts & crafts, autumn toys, Halloween ideas, and picture books about autumn.
PLUS: We're offering 50% OFF and MORE on our Kids Art Spot Halloween workshops, Fall workshops and bundles. (Sale ends October 31, 2021 at 11:59 pm EST)
Pin It For Later