Create a gratitude tree for kids in 4 easy steps! Plus our recommendations for picture books on thankfulness.
November is the perfect time to start a tradition of gratitude in your family.
Over the last several years, my kids and I create our very own "gratitude tree" together. This helps us to take a few moments each day to focus on those things that we're thankful for in our lives.
I love this project because it can be so versatile! Most years, our gratitude tree is just a few sticks in a jar.
And last year we constructed a giant paper tree on our wall like this one. We made all kinds of colorful leaves on which to write our phrases of gratitude.
This year, we took our "sticks in a jar" concept one step further, and I'm LOVING the results!
Gratitude Tree for Kids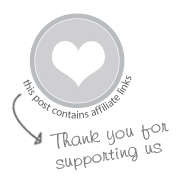 MATERIALS
Sticks
White spray paint
Jar or vase
String
INSTRUCTIONS
Time needed: 1 hour.
Prepare the sticks

These days, it's easier to get my kids on a walk with me if they have a job to do so gathering sticks was the perfect excuse for an autumn stroll!

We had fun exploring the woods near our house and we gathered LOTS of potential sticks for our gratitude tree.



Next, I chose a few sticks that I thought work best for my vessel (a cute little pitcher from the Target dollar spot). Then I gave the sticks a few light coats of white spray paint. 

This step is not strictly necessary, but I love how it makes the paint colors really pop!

 Decorate the "tree" branches

Tempera paint sticks are the perfect way to decorate your gratitude tree branches!  They're super easy, low mess, and fun to use for all ages. 

I love how they glide so smoothly on just about any surface–even these bumpy sticks!


Arrange your gratitude tree

Place your sticks in your jar or vase. It may help to anchor them with sand or rocks at the bottom. 

Then find a place in your home that's highly visible and accessible to your kids.  If your tree is tucked in a dark corner, it will likely be forgotten by next week.

I like to put our gratitude tree in a central location which helps to remind us to add new leaves every day.


Add leaves

Cut simple leaf shapes from construction paper. (You might also upcycle painted paper into colorful leaves!)


I usually spend a few minutes and cut out a couple dozen leaves. Then my kids help me punch holes in the leaves. The paper leaves, pencil and string go into a basket next to our newly crafted tree.

Each day, we think of what we're most thankful for and add a few leaves to our tree.
Photo by Anna Harpe
This tradition combines so many wonderful elements.
I like that it gives me a good excuse to spend time outside with my family, create something beautiful together, and develop the practice of gratitude.
Of course, we can't let a new season pass us by without a few fresh books for our shelves!
Even as my children get older, reading together remains an important point of connection for our family. Check out the list below to find some of my favorite books on gratitude, perfect for this time of year.
5 Picture Books about Thankfulness for Kids
1. Before We Eat: From Farm to Table by Pat Brisson, illustrated by Mary Azarian
This book is a great way for kids to understand all the people involved in a simple family meal. I especially love how it highlights workers you might not often consider, such as truck drivers and grocery store cashiers. Understanding the work involved in our everyday lives can certainly help us all feel more thankful for simple pleasures.
2. Sharing the Bread: an Old-Fashioned Thanksgiving Story by Pat Zietlow Miller and Jill McElmurry
One of my favorite stories to read this time of year, Sharing the Bread focuses on the hustle and bustle of Thanksgiving preparations, involving everyone from Grandpa to Baby Sister. I absolutely adore its rhyming text and sweetly nostalgic illustrations; they perfectly capture the magic of a busy family meal, something we all can be grateful for.
3. We are Grateful: Otsaliheliga by Traci Sorell, illustrated by Frane Lessac
This beautiful book follows a Cherokee family as they celebrate moments big and small, expressing gratitude along the way. With bright illustrations and Cherokee vocabulary scattered throughout, this story invites us all to better appreciate the people and things that make us feel thankful.
4. Last Stop on Market Street by Matt de la Pena, illustrated by Christian Robinson
On its surface, Last Stop on Market Street is a simple story of a boy and his grandmother riding across town on a bus. But the text reads like a poem, focusing our attention on small moments of beauty and humanity. By the time the bus makes its final stop at the soup kitchen, our young protagonist, like us, is ready to see the world in a whole new light. Books like this one can remind us all to practice gratitude during even the most mundane moments in our lives.
5. Apple Cake: A Gratitude by Dawn Casey, illustrated by Genevieve Godbout
This story is simply adorable. It follows a small girl on a walk to gather ingredients for an apple cake as she expresses her thanks for each one: "Thank you, hedge, thank you, tree. Thank you, flower, thank you, bee." Luckily, the poetic story ends with a recipe for her delicious-looking cake! I love how this sweet story breaks down a simple treat into its components, helping even our youngest kids better understand all we have to be thankful for.
More Ways to Foster Gratitude for Kids
Pin It For Later