13 Thanksgiving arts and crafts for families with a focus on connecting and celebrating the season together in a meaningful way.
Updated October 2023
With Thanksgiving and then the Christmas holidays upon us, it's time for a little extra family connection and celebration. We can do this through holiday crafts, meaningful activities, and tasty Autumnal foods.
While this time of year can tend towards busy or hectic, it also provides an opportunity to gather our family and friends around us, pull them in close, and connect through creativity. It's also an opportunity to celebrate what we are thankful for, the seasons, the beauty of the natural world, the holidays, and old and new family traditions.
Here is a list of Thanksgiving arts and crafts, and recipes, to refer to as a reminder and reference, in case you want to be a little extra thoughtful about connecting and celebrating together this year.
13 November Crafts and Activities for Families
These simple garlands give you the chance to connect with your kids over conversation while creating side by side. Plus, it gives you a new piece of decor for your home!
Start with a family nature walk to gather colorful leaves. Then, sit down together to decorate the leaves, or craft with them.
3. Discuss family traditions and history.
If you need some engaging prompts, try our conversation starters in our Thanksgiving Creativity Pack.
4. Make thankful stones.
Start with melted crayon rocks and write what you are thankful for on each with a black Sharpie marker.
Whip up a batch of homemade playdough together and then use it to make some fun turkeys!
6. Make a thankful banner to hang by your dinner table (from Art Bar Blog).
This gorgeous banner will be so fun to make as a family, and then you can hang it as decor for the big day. And leave it up all year round for a good gratitude reminder!
7

. Bake together.

We love anything that involves pumpkin (such as these pumpkin chocolate chip muffins!) or cranberries (this cranberry upside-down cake is divine!).
8. Get started making some homemade gifts for your friends and family.
This list is full of sweet and thoughtful gifts that you can make together as a family and then give to special people for the holidays.
9.
Connect with games.
What better way to connect as a family than with some games?! We love these drawing games as well as these board games.
Make some lovely painted paper leaves and use them to record the people and things you are thankful for to hang on a gratitude tree.
11. Read together!
Snuggle up on the couch and read some our favorite books about Thanksgiving and gratitude. You could even start a seasonal home library together.
1

2. Go on a family lantern walk.

Make some DIY lanterns and take them on a family lantern walk on a chilly evening.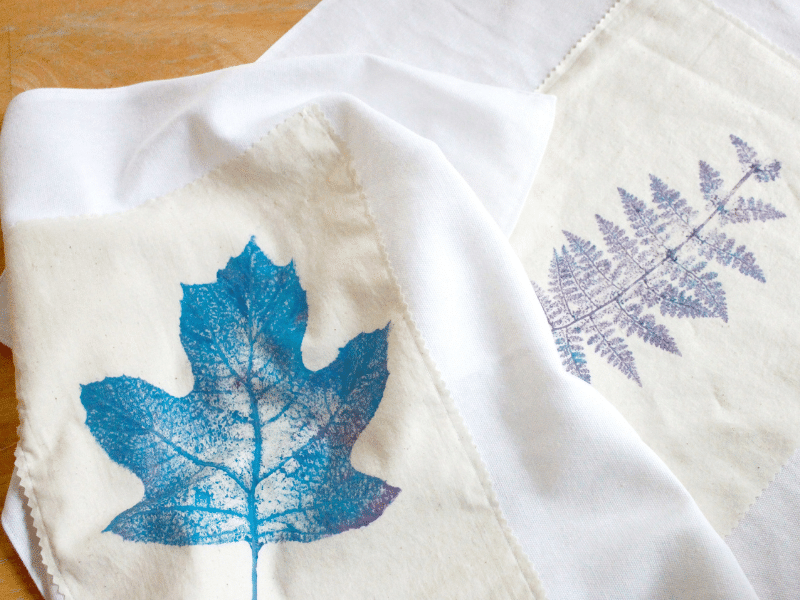 13.
Make homemade printed napkins

.

Try your hand at printing with these lovely homemade napkins. Use them for the Thanksgiving tablescape or give them as holiday gifts!

Hopefully some of these ideas are helpful reminders of something you'd like to do this month and perhaps some will be the start of new family traditions for you.
More Thanksgiving Activities for Kids
Want even more creative ideas?
Check out our Thanksgiving Creativity pack!
Full of wonderfully fun ideas to help your family practice gratitude this season, this 38-page printable eBook includes: Drawing Prompts, Conversation Starters, Art Projects, and more!
Pin It for Later