Pair finger painted hand tracings with festive pom pom to create a Thanksgiving handprint art garland for kids.
Updated September 2022
We love these beautiful Thanksgiving garlands featuring finger-painted hands with words of gratitude written on them. It was a multi-step process, but well worth the extra steps and involvement. Plus we used homemade edible finger paint!
A big thank you to Dixie Crystals Sugar Kids in the Kitchen for sponsoring this post! As always, all opinions expressed are my own.
The finger paint is made with only sugar, cornstarch, water and food coloring. Super easy! You probably have everything you need in the kitchen right now. You can save or print the recipe at the bottom of this post!
Since this finger paint is edible, you can offer it to the youngest toddler without worrying that they're going to be tasting and testing as they paint with their hands.
You could even offer some to an older baby in a high chair. Simply tape a piece of paper to the tray, add a spoonful of paint or two, and encourage them to smush the paint around with their hands.
Just because it's edible, doesn't mean you want to encourage your little one to eat art supplies, but you'll feel better knowing that the finger paint is completely nontoxic and edible.
Here's how we made these kids' Thanksgiving garlands…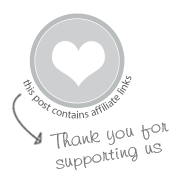 Thanksgiving Handprint Art
MATERIALS
INSTRUCTIONS
Finger paint

First, have a finger painting session with your homemade finger paints. You can paint on finger paint paper but heavier paper, like card stock will work better for the finished garland.



Let paint dry

Make sure your paint is completely dry before making your garland.

Trace kids' hands

Use a pencil to trace your kids' hands. If you are doing this with older kids, they could trace their own hands.



Cut out the hand tracings.



Write words of gratitude

Ask your kids what they are thankful for (see the gratitude prompts below) and write their words of gratitude on their hands with Sharpie markers. Older kids can write the words themselves.



String a pompom garland

Use a large, blunt embroidery needle (best for young kids) on the end of some doubled up embroidery thread to string a garland of pompoms and big beads.

Add thankful hands to pompom garland

Punch holes at the top of each thankful hand and string a 6 inch length of embroidery thread through it. Then tied the hand to the pompom garland.



Hang your Thanksgiving garlands!

Display your new Thanksgiving garlands where everyone can see them and be reminded of what they are thankful for.


Here's the printable recipe for the edible finger paint we used.
Print
Edible Sugar Finger Paint
---
Description
Make an original painting with paint that is fun to make and safe to eat. Our sugar-based mixture can be put together for a quick play date or a rainy afternoon activity for good, clean (or messy!) fun.
---
---
Instructions
Mix together sugar, corn starch and water in a saucepan.

Heat mixture over medium heat while stirring with a whisk. As soon as it begins to thicken, remove from heat. If mixture is too thick, add water.

Divide mixture equally between four bowls and add four drops of food coloring to each bowl.

Store in an airtight container. Can be stored in the refrigerator for up to a week.
---
Gratitude Prompts for Little Kids:
The gratitude part is easy for older children to understand. If you ask 6 year olds what they are grateful or thankful for, they'll tell you their family and friends, toys, and favorite foods, etc.
But for younger kids who don't yet grasp what gratitude means, it's a bit trickier.
Here are some questions we can use to help little kids understand what gratitude means.
What do you think? Would you make Thanksgiving garlands like these with your kids?
For more fun Thanksgiving ideas for kids and families, check out Dixie Crystals' Thanksgiving Craft Projects.
More Thanksgiving Crafts for Kids
Autumn Arts & Crafts Ideas & Supplies
Download our FREE printable idea list of 30+ Thanksgiving activities for kids & families! Or check out the blog post with the links. So many fun ideas for the season!
And be sure to check out our FALL family fun list in our Amazon store! It includes supplies for fall arts & crafts, autumn toys, Halloween ideas, and picture books about autumn.
And if you want even MORE Fall craft ideas, check out our Fall Arts and Crafts Workshop at the Kids Art Spot, our kids art club. You'll get 10 videos of fun Fall art activities PLUS 10 seasonal drawing prompts!
Pin it for Later
Again, thank you to Dixie Crystals Sugar Kids in the Kitchen for sponsoring this post. As always, all opinions expressed are my own.