We have a great new way to decorate salt dough ornaments!
Big surprise, right? We always seem to be tweaking and experimenting with materials and techniques. This time, I decided to try combining two all-time favorites, melted crayon art and salt dough, thinking they might mix well.
And they do!
Melted Crayon Salt Dough Ornaments
MATERIALS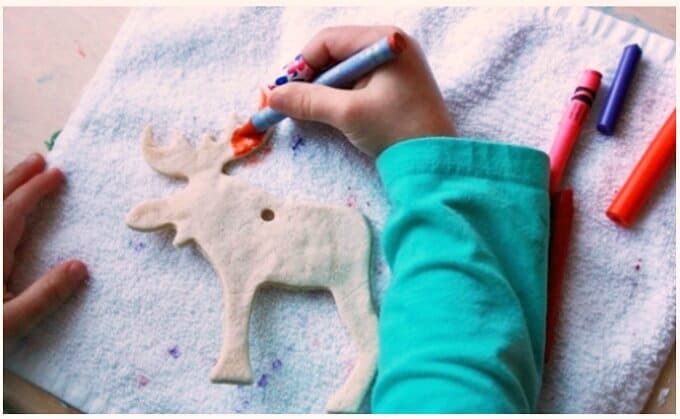 INSTRUCTIONS
At the end of the salt dough ornament baking period, we take one ornament at a time out of the oven (per person) and draw on it with crayons.
Just as with melted crayon rocks and other melted crayon art, the crayons melt as they glide over the hot surface, leaving a thick and shiny waxy coating of vibrant color.
Here's Maia at work, using a set of our push-up crayons and a set of multicultural crayons to decorate some forest animals.
These are just a few of the ornaments Maia decorated. The animal cookie cutters are a fun set I picked up at Ikea a while back.
Maia's friend Kara is at work here decorating salt dough ornaments.
And some of the ornaments she decorated.
Little Daphne loved this as much as anybody!
Daphne's finished ornaments…
Some Tips for These Salt Dough Ornaments
On Daphne's ornaments, you can see a mix of melted crayon and not-quite melted crayon.
She worked a bit slower than the other two, and once the ornaments cool down, the crayon doesn't melt as readily. You can put the partially finished ornament back into the oven to reheat, but she turned down that idea and was perfectly content to continue drawing on the ornaments as they were.
I decorated some of the salt dough ornaments, myself, and especially liked how the metallic crayons melted and looked.
Note :: We placed our salt dough ornaments on a washcloth to protect the table from the heat and the crayons. The salt dough wasn't actually that hot (not like the rocks) and we could touch them with our bare hands. The washcloths probably weren't necessary; a paper plate or a placemat might be plenty—anything you don't mind getting crayon on.
Besides all the animal ornaments, we also decorated some salt dough snowflake ornaments with the melted crayon technique.
Daphne's is on top, mine are the lacy ones, and Maia used an artful technique of covering the entire ornament with white melted crayon first, then adding a design over the top with blue melted crayon.
We finally have our Christmas tree up and were able to hang all of our new salt dough ornaments (along with quite a few from years past).
P.S. You can find the basic salt dough recipe and instructions on this post of 11 Salt Dough Ornaments Kids Can Make.
Pin It for Later