Learn how to make cinnamon ornaments with applesauce that smell amazing for Christmas! An easy, eco friendly holiday decoration for kids.
Updated November 2022
This simple project is one that my family comes back to year after year.
As toddlers, my kids loved pouring, mixing, and squishing around the dough. Now that my kids are older, they can be more involved in each step. And they are able to independently follow our well-worn recipe from start to finish.
Remember that you can start new traditions with your children at any age. I'm sure these cinnamon ornaments will become a seasonal favorite in your home too!
Cinnamon Ornaments with Applesauce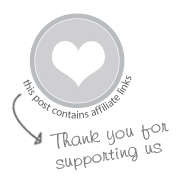 MATERIALS
INSTRUCTIONS
Time needed: 1 hour
Make homemade cinnamon ornaments with applesauce that smell amazing for Christmas! An easy, eco friendly holiday decoration for kids.
Combine ingredients

Mix together the cinnamon, applesauce, and white glue. Start with a spoon, then knead with your hands until the mixture comes together and holds it shape. Add more cinnamon if too wet or more applesauce if too dry.



Roll out dough

Next, roll your dough to a thickness of around ½". Use two sheets of parchment paper to keep the dough from sticking.



Cut dough into shapes

Have fun cutting a variety of shapes with your cookie cutters!



Add hole

Don't forget to poke a hole for your twine before transferring shapes to the baking rack. (If you don't have a baking rack, dry the cinnamon ornaments on parchment paper. But remember to keep flipping them so all sides dry evenly!)

Dry cinnamon ornaments

Transfer all your cut shapes to a baking rack to dry. You can use either of these methods:

Put a baking rack on a baking sheet and place in a 200 degree Fahrenheit oven for 2 ½ hours, or until the ornaments are dry and hard.

Or put the ornaments in an out-of-the-way place to air dry for several days. This method may be slow, but it works just fine if you live in a relatively dry climate.



Decorate ornaments

Once the ornaments are dry, hard, and cooled, you can decorate them as you wish!  If you plan to compost them at the end of the season, keep your decorations to non-toxic markers. If you plan to keep or gift the ornaments, then the sky's the limit!


I especially love how versatile these sweet little ornaments can be!
We always end up making way too many, but fortunately they make great gifts, Christmas ornaments, or additions to our dried orange garlands.
Once the season is over, we choose one or two to label with the year and pack away. Any remaining (unpainted) ornaments can be composted, making this project a great low-waste option for the holidays!
People Also Ask
Do I need to bake cinnamon ornaments? You can bake at a low temperature or let ornaments air dry, which may take several days.
How many ingredients are in cinnamon ornaments? Three ingredients: ground cinnamon, unsweetened applesauce and white school glue are all you need!
How long do cinnamon ornaments last? If kept dry, cinnamon ornaments will not mold and keep forever!
More Homemade Christmas Decorations
Want even more creative ideas?
Check out our Holiday Creativity pack!
Let's celebrate the holidays with all things crafty! Here are 53 pages full of our favorite drawing prompts, creative play ideas, art activities, and more!
Pin It For Later