This no sew autumn leaf bunting with leaves and wax paper is easy to make and a great addition to fall decorations.
Updated August 2021
We love using the fall leaves that are in abundance this time of year for all kinds of crafts. And we love even more when we can use those crafts to add some lovely Fall decor to our homes!
This Autumn leaf bunting is one of many fall leaf garlands that we've made. It is so easy and fun to make, and looks so pretty hanging up by a window.
How to Make An Autumn Leaf Bunting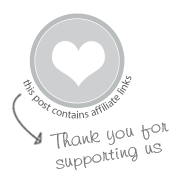 MATERIALS
INSTRUCTIONS
Place leaves on wax paper

Arrange your autumn leaves on a sheet of wax paper in roughly triangular shapes. Set another sheet of wax paper over the leaves.



Iron wax paper

Place a piece of newsprint or paper under and over the wax paper/leaf sandwich and iron on high to melt the wax and fuse the wax paper and leaves together.



Cut triangle shapes

Next, cut triangles out of the wax paper/leaf creation, preferably around the leaves rather than through them. You can freehand them or create a template for uniformity.



Arrange bunting and glue to ribbon

Arrange your leaf wax triangles in an order you like and cut a piece of ribbon about a foot longer than the triangles.

Use a hot glue gun to add a strip of glue along the top of a wax triangle. Set the ribbon on top and press lightly.



Repeat with the rest of the wax triangles until all are glued to the ribbon.

Add additional decorations

Optional: Decorate the autumn leaf bunting with metallic sharpies. You can trace the veins of the leaves, or draw doodles, or zentangles.


We think this lovely autumn leaf bunting hung in front of this window adds a nice Fall touch. We included some doodled leaves inside the wax bunting, but the effect is muted. The sharpie drawings on the outside of the wax paper show up much better.
More Autumn Decorations for Kids to Make
Autumn Arts & Crafts Ideas & Supplies
Download our FREE printable idea list of 30 autumn activities for kids & families! Or check out the blog post with the links. So many fun ideas for fall!
And be sure to check out our FALL family fun list in our Amazon store! It includes supplies for fall arts & crafts (including the best paper leaves for painting!), autumn toys, Halloween ideas, and picture books about autumn. Plus, we have lists of the best kids art supplies, open-ended toys, children's games, and more!
PLUS: Get our new Autumn Arts & Crafts for Kids workshop! This is an online workshop with 10 fun fall arts and crafts activities that your family can enjoy all autumn long, with a bonus of 10 fall-themed drawing prompts! Use coupon code KASHALFOFF for $9.99!
Pin It For Later