These beautiful suncatchers make the best autumn leaf craft for preschool–or any age! Use transparent contact paper and fresh autumn leaves for this nature craft for kids.
Updated August 2022
One of our favorite things about this time of year is the beauty of Autumn leaves and all of the fun and beautiful crafts you can make with them.
Here's a quick and easy Autumn leaf suncatcher you can make with the autumn leaves around you. Or, if you don't have autumn leaves where you live, flower petals or green foliage work as well.
Just looking at this leaf you can see why they work so well for nature suncatchers, right?
This activity is easy enough for the youngest toddlers (although they may spend as much time taking the leaves back off as they do putting them on) and gorgeous enough that you may want to make your own.
Autumn Leaf Craft for Preschool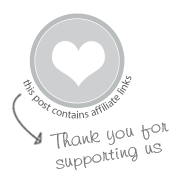 MATERIALS
Time needed: 30 minutes
INSTRUCTIONS
Prep your contact paper

Cut off a rectangular piece of contact paper. Fold it in half, then pull the paper covering off to the fold, exposing half of the sticky plastic.

Add your leaves

Arrange your autumn leaves on the sticky contact paper and press to adhere.

If desired, use your hole punch to cut out heart (or other) shapes from leaves and add those to the suncatcher as well.



Fold over your contact paper

When you are satisfied with your design, remove the rest of the paper backing from the contact paper.

Carefully fold it over the leaves, sandwiching them in between the two layers of plastic, and press down with your hands, avoiding air bubbles if possible.

Enjoy!

Hang in a sunny window and admire!

You can tape your suncatchers to the window or punch holes in the top and add a ribbon for hanging.


A note about the leaves : The fresh autumn leaves are beautiful, vibrant, and full of color which is one of the reasons we like to use them for these nature suncatchers every year (rather than pressed and dried autumn leaves). However, please note that they will lose some of their color over time and decay. Ours are usually enjoyed for about two weeks before we take them down.
More Leaf Craft for Preschool Ideas
Autumn Arts & Crafts Ideas & Supplies
Download our FREE printable idea list of 30 autumn activities for kids & families! Or check out the blog post with the links. So many fun ideas for fall!
And be sure to check out our FALL family fun list in our Amazon store! It includes supplies for fall arts & crafts, autumn toys, Halloween ideas, and picture books about autumn.
PLUS: We're offering 50% OFF and MORE on our Kids Art Spot Halloween workshops, Fall workshops and bundles. (Sale ends October 31, 2021 at 11:59 pm EST)
Pin It for Later