Our family participated in a lovely Valentines Day art activity this morning with each of us painting a map of our hearts. We included images and words for the things and people we love and value.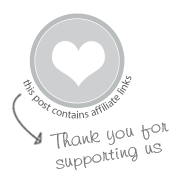 This is not the first time we've done this Map of My Heart painting activity. Maia and I painted our first heart maps three years ago when I came across the activity in Mariah Bruehl's great book, Playful Learning.
But Valentine's Day seemed like the perfect time to revisit the activity.
This time around I added in an idea from another blog friend, Alissa of Creative with Kids. I've been wanting to try Alissa's make-your-own paint with water pages since she first posted about them.
I don't know what took me so long, but I finally did (3 years later!), in combination with the Map of My Heart activity.
The two ideas worked wonderfully together!

A Valentines Day Art Activity
MATERIALS
1. Cut out heart shape
I cut out large hearts from watercolor paper.
2. Add paint dots & let dry
Then I squeezed little dots of watercolor paint (from tubes) along one side. I let the paint dry, and wrote "Map of My Heart" in small letters across the top.
3. Draw the Map of Your Heart
The family woke up to DIY paint-with-water heart maps at their spot at the table, a black pen, a paint brush, and a cup of water.
4. Paint!
And everyone drew and painted the things that they held near and dear to them on their maps — all before breakfast.
Nothing like a little family bonding and reflection time disguised as a Valentines day art activity to make this mama happy. 🙂
The little dots of dried watercolor paint worked surprisingly well–better than I expected. And the kids loved the idea!
Note :: The watercolor tubes I bought were the cheapest possible ones from Michael's and the paint cracked a bit as it dried. Not a big deal, and the project still worked well, but if you want a paint that doesn't crack, then maybe buy a mid-priced watercolor tube rather than the bargain basement stuff.
We grouped our family heart maps on the side of the fridge above our motley collection of cookbooks for now. I'll probably migrate them over to the kids art display wall soon, though.
Another good spur-of-the-moment one is the interactive heart mandala. And, of course, either the Map of My Heart or the interactive heart mandala can be made any time of the year, not just at Valentine's Day.
How about you? Did you do any family Valentines day art activities today?
Pin It For Later