In this tutorial I share how to do paper marbling with acrylic paint and liquid starch. This is a great activity to do with your kids to make Christmas crafts, cards, and handmade gifts!
For my Facebook Live this week (Wednesdays at 10am!), I did a demonstration of marbling paper with paint and liquid starch. Marbling is one of our favorite art activities and one that we've done many different ways over the years, but this technique is especially easy and fun.
I realized that I haven't written a blog post about marbling with starch and paint yet, so here you go! The actual tutorial and photos. If you want to see this marbling technique in action, go watch the FB Live demonstration. If you want the step-by-step instructions and photos, this is the post for you.
How to do Paper Marbling with Acrylic Paint and Liquid Starch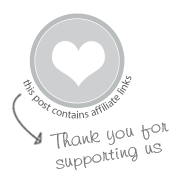 MATERIALS
INSTRUCTIONS
STEP 1: Create the marble design
Pour 1/4 to 1/2 inch of liquid starch into your plastic tub.
Add drops of the liquid acrylic paint.
Note: We made our thick acrylic paint liquidy by putting a dollop in our cup then adding an equal amount of water and mixing completely with a paint brush.
Swirl around with the end of a paint brush.
*Note: You definitely want to protect your table and your clothing for this activity. The acrylic paint is permanent. We covered our table with a disposable plastic tablecloth.
STEP 2: Transfer your marble design to paper
Set a piece of paper* on top of the starch + paint design. Press slightly to make sure that the marbled design transfers to the paper evenly and there aren't any air bubbles.
*Or, in this case, a blank gift tag.
Lift up and admire your marbled paper.
STEP 3: Let Dry
Set down on the plastic tablecloth or on a piece of wax paper to dry. The liquid starch will stick to most other things as it dries, which you don't want!
STEP 4: Marble more things!
Repeat the steps above to make more beautiful marbled paper or to marble other things such as pieces of wood (these wooden heart slices would work well!) or canvas as well as paper shapes and strips.
And a wooden star wand that we picked up at the craft store for $1!
Handmade Gifts & Crafts Made with Marbling
(Some ideas for what to marble or what to make with your marbled paper.)
Christmas cards

Handmade notebook (cover)

Christmas ornaments (paper, cardboard, or wood)

Gift tags

Paper chains

Buntings and garlands

Bookmarks

Wood blocks

Wood keychains

Something made out of canvas

Other! So many possibilities!
More Marbling Techniques
Here's a post on The Artful Parent with 6 different ways to marble paper, including shaving cream marbling, nail polish marbling, marbling with oil and liquid watercolors, and suminagashi.
NOTE: The acrylic paint is permanent so keep that in mind as you work and protect your work surface and clothing. You can also do this with tempera paint.
Pin It for Later