We LOVE shaving cream marbling. Love it. We love any marbling, really, but shaving cream marbling is especially fun (it involves shaving cream, after all) and beautiful liquid watercolors (the colors are just so vibrant)!
We've done shaving cream marbling so many times over the years, both on our own and with friends, for no special reason and to make handmade gifts. We've even done it with a variety of paints.
A couple weeks ago, when Maia was sick and sleeping away most of the day, she even requested a shaving cream marbling session during a brief awake and not-too-feverish period.
When I looked back at my old posts on shaving cream marbling, though, I realized that they were way overdue for an update.
Here's a video showing Shaving Cream Marbled Paper in action! And don't forget to scroll down for step-by-step instructions.
Shaving Cream Marbling with Liquid Watercolors
With better photos, added tips for success, and years of experience under our belt…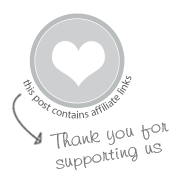 MATERIALS
INSTRUCTIONS
If you're wondering about the art trays
in the photos, they are wonderful for containing art messes and we use them all the time! And those little paint cups in a base
are great for holding liquid watercolors. You can read more about both in my tools for success post, but neither are necessary for this project.
Step #1. Spray shaving cream
Spray shaving cream into your dish (if your kids are anything like mine, they'll love doing this step on their own) then smooth the surface a bit with a spatula (or spoon, hands, etc).
Step #2. Drop paint on shaving cream
Use the dropper
to transfer the liquid watercolor paint
to the surface of the shaving cream.
Step #3. Swirl the colors
You can use a craft stick or wood dowel (shown here) to swirl the colors together to create a marbled effect. Or use the tip of your dropper (as we usually do).
Step #4. Press paper on shaving cream
Lay a piece of paper on the surface of the painted shaving cream.
Step #5. Lift paper
Gently lift the paper off of the shaving cream.
Step #6. Scrape shaving cream
Scrape off the shaving cream with a craft stick or a piece of cardboard.
Step #7. Dry
Set paper aside to dry and repeat with more prints!
You can make several prints each time you add paint to the shaving cream. And you can add more color to existing colored shaving cream. When you're ready for a clean slate, you can either add a new layer of shaving cream to the top (as shown) or scoop the colored shaving cream out with a spatula and start fresh.
If your kids are anything like my kids (heck, like almost any child who has been to our house), this will be the highlight of the shaving cream marbling experience—shaving cream as a sensory experience.
*5 Tips for Success
When you buy shaving cream, make sure it's the foamy stuff. NOT gel. I've made that mistake more than once. We've had more success with the traditional men's shaving creams, such as Barbasol and Gillette, plus they can be cheaper. Whenever there is a sensitive skin option, I usually get it.
You can do shaving cream marbling with just about any paints, not just liquid watercolors. We've done this with tempera paints, BioColors, food coloring, and acrylics. BioColors and liquid watercolors work especially well, though.
Scraping the shaving cream off the paper right away is important. You don't want to let the shaving cream soak into the paper. It'll get gunky and stain the paper. For scraping, use something with a wide, straight edge. We've used everything from a piece of cardboard to the side of the table. This time we used a large wood craft stick, but I wouldn't say it was ideal. A ruler would also work well.
Keep a wet washcloth and/or bowl of water handy for washing shaving cream-covered hands.
To make clean up easier, spray off all the dishes and art trays outside with a hose. Or use a rubber spatula and scrape it all into the trash first, then rinse off.

What to do with your beautiful new shaving cream marbling paper?
Have you done shaving cream marbling with your kids yet? If not, it's a must-try art project!
Pin It For Later