If you're looking for even more stocking stuffers for kids, try these creative ideas including toys & art supplies.
Updated October 2021
We've been working on this list of even more creative stocking stuffers for kids because we can't resist a stocking stuffer! Stockings are our favorite part about Christmas and always have been.
If you're struggling for some new stocking stuffer ideas, or if you're looking for that one last special item to add, this list is for you!
Be sure to also check out our list of 10 fun stocking stuffer ideas, and if you are a procrastinator (like us!), our last minute stocking stuffer guide will help! And our list of favorite creative gift ideas for toddlers & preschoolers has gift ideas as well as stocking stuffers!
Even More Stocking Stuffers for Kids
Art Supplies
We think art supplies are a must when it comes to stocking stuffers for kids. A few ideas you could include are: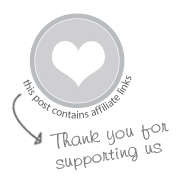 These woodland pencils are so cute! And so are the safari version!
Metallic colored pencils are perfect for shading and coloring.
These pearlescent watercolors are VERY satisfying to paint with!
A paper punch in your child's favorite shape.
We usually throw in a few fun rolls of washi tape, one of our best-loved art materials.
This combo pack of our favorite modeling clay comes with super fun pastel colors!
Dot stickers or googly eyes are always fun.
Creative Games
Games that are open-ended are great for collaborative play and building the imagination.
Marbles are fun to use in a million different ways!
A seek and find scavenger hunt is fun to play both inside and out.
This wooden shape puzzle is the perfect brainteaser.
If you've got a mini scientist at home, try these science experiment card sets.
Story cubes are perfect for creative storytelling.
Or try a card game for family fun (Rat A Tat Cat, Sleeping Queens, and Sushi Go are 3 of our favorites.)
Useful Items and Tools for Kids
A great stocking stuffer can be a kids-sized version of a tool or useful household item. Your kids will love having their own tools or utensils to use!
Their very own kid-safe knives for helping in the kitchen!
A garden trowel for the garden helper.
Kids love playing with flashlights. So why not get them their own, and better yet, one that will fit little hands?
A pair of binoculars for nature hikes or scavenger hunts!
Fun Stuff!
Sometimes you just need something extra fun, or a little silly!
Temporary tattoos are always a hit!
A design-your-own bracelet kit for the jewelry lover in your family.
Whoopee cushion for loads of laughs.
Silly putty is such a classic (you can also check out this awesome thinking putty.)
The highest-bouncing ball ever!
Bath color tablets are always fun! Or add in a pack of bath markers or crayons…or even bath paint!
Stocking Stuffers for the Littlest Kids
Need some last-minute stocking stuffer ideas for the littlest kids in your life? Check out some of our recommendations below:
A super cute tub submarine for bath time.
A set of their favorite Sesame Street characters!
Some easy-to-grip crayons for those first forays into making art.
This My Quiet Book is also a great choice and is good for sensory stimulation.
Now, your one-year-old isn't going to care much about present opening on Christmas day, but as a parent, it is something you are going to remember. So, why not throw a few items in Baby's First Christmas Stocking?
We hope this list helps you fill those stockings!
More Stocking Stuffers for Kids
Pin It for Later