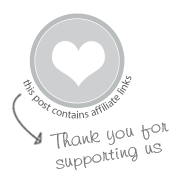 I have the good fortune to call a super funny art blogger, Jeanette Nyberg, my friend.
Her site is called Craftwhack and she also has a newsletter that you probably want to sign up for (did I say she was funny?).
And now, she's created a book of kids' drawing games and tangle art activities!
Tangle Art & Drawing Games for Kids
Jeanette is my kind of lady all around.
I'm a big proponent of art activities to encourage creative exploration. And art games are especially good for this because they are fun and interactive.
So, of course, I'm all for a "silly book for creative and visual thinking" that involves drawing games and doodling for kids.
I preordered her book book back in the fall when I first heard about it and when my copy arrived recently, the kids and I dove into the activities.
Today, I am excited to participate in the blog tour for her new book!
I'll share some of what's in it as well as a couple of the fun art activities we have done from it so far (my girls LOVE both). And I'll show you the #1 reason you're probably going to want to buy this book for your kids.
These art activities and games would be fun and appropriate to do with younger children through teens and even adults.
But!
What makes this book really stand out is that it is written to the kids/tweens/teens.
You can hand this book to your kid and they can explore it on their own or with their friends.
And because it's fun, funny, simple, and interesting all at the same time, they will probably want to.
My kids did. This is a tangle art activity that Maia chose and both kids explored over the course of a few days. They started with some tape resist painting. Then added zentangle-style drawings and doodles in the blank areas.
And another art project that they really loved from the book and kept going back to again and again this past week is this magic drawing activity. Basically, you fill half of a sheet of paper with color using oil pastels or crayons, then fold over the other half and draw a design or picture on the outside of the color sandwich with a pen or pencil. Open it up to reveal a magic drawing in your colors!
Okay friends. I think you're going to want to get a copy of Tangle Art & Drawing Games for Kids for your kids. It's full of fun ideas and creative activities that you they can do on their own, with friends, or with the whole family. Definitely worth it!
Update :: I interviewed Jeanette about her favorite ways to encourage children's creativity.