Upcycle a vinyl record and glue on loose parts to make these beautiful mandala art designs for kids. Relax, unwind and create–it's the perfect process art activity!
Updated April 2023
These record mandalas are one of my favorite projects of this year. I know I say that often, but seriously, making these mandalas for kids was a major hit! The kids loved it and so did I right from the beginning.
At the beginning of a project, I like to sit with the kids on the floor for ten minutes and have a conversation about a book or image connected to the activity we will be working on.
This time it was a conversation about "looking within". Pretty deep huh? We art teachers can get quite deep sometimes!
I asked them what they thought this phrase meant, and how can we focus on ourselves and on quieting our minds. The kids had so many wonderful, and, let's just say, diverse, answers.
One child brought up the word "meditation". And I took it from there and started to show them some images on ancient and more contemporary mandalas.
The kids started to point out what they saw, the patterns, the repetition, the colors, the thoughtfulness put into each and every one of them.
And then I invited them to make their own mandalas, focusing their attention as they were creating on looking within. They made an effort to be quiet and intentional as they went around and around in circles.
Of course they were quiet for let's say, about the first three minutes, and then it got quite noisy! But they went back and forth from quiet to noisy for the whole class as I asked them to remember to give their entire thought and attention to their mandala.
I was very happy and satisfied to see them making an effort to truly focus and to be present in the moment as they made these.
Record Mandala Art Designs for Kids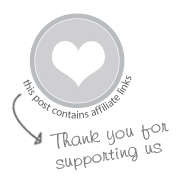 MATERIALS
Old Records
Fun items to use for the designs: rhinestones, round stickers, stars, small gems, cut up straws, cut up plastic necklaces, small bingo chips, pony beads, mosaic squares, buttons, sequins and spangles
Chalk markers (optional)
INSTRUCTIONS
Gather supplies

Start by setting out all of your supplies to make it look like a big buffet of loose parts.  Keep in mind that the supplies I listed above include a variety of options you can use for your record mandalas.

It doesn't have to be exactly these supplies; just about anything you have around will likely work to create patterns and series for the circles. Another option is to use chalk markers to create shapes on the record as a first step, and then add the parts.

Or even try using chalk markers to create shapes and patterns alone.


Attach yarn to record

Tape a small piece of yarn (about 8 in long) to the back of your record mandala. This will be used to hang it once it is complete.

Glue on loose parts to create the mandala

Bring out the glue and the loose parts "buffet" and ask the kids to start gluing these onto the record. Remind them to try to be very thoughtful of the patterns they can create.



Begin at the inside with a small circle and expand working outwards, until the entire record is filled up.



Let dry

Let it dry overnight.  Some pieces may fall off the next day, but if this happens just use a glue gun to attach them onto the record again.



Hang your record mandala!

Now the record mandala is ready to be hung!  I suggested the kids hang it close to their bed so it reminds them to be mindful, focused and to slow down and look within.
I hope you enjoy making these record mandalas!
More Mandala Art for Kids
Pin It for Later