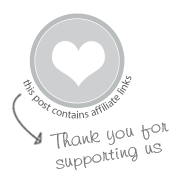 In case you are looking for some dot art ideas to do with your kids, here are lots of them.
19 in total.
Maybe you've read The Dot by Peter Reynolds and want to create dot art to tie in with that inspiring book. Or maybe you're studying pointillism or some other dot art
style and want to try something similar.
Or maybe you just want to make some fun art and try something new.
I put this round-up post together because I got excited about all the different dot art ideas I was thinking about after doing Q-tip pointillism with my kids the other day. I thought of the various ways we've made dot art in the past (with printing, painting, drawing, and even playdough) and all the fun dot art ideas I've seen around the web (Aboriginal dot painting, Kandinsky circles, and Lichtenstein-inspired pop art, among others).
Dots are an effective and interesting art component and there are many ways to make them.
Drawing (with markers, crayons,  Do-a-Dot markers)
Painting (with Q-tips or brushes, big or small)
Printing (with bubble wrap, legos, muffin tins, or monoprinting with a cake pan)
Collage (with stickers, paper, pasta shapes, beans)
Rubbings (over a lego plate or a grill pan)
Poking (poke toothpicks into playdough or clay, for example)
So… If you want to dive into some dot art, try one of these ideas! And if you think of other fun ones, please leave a comment below the post!
19 Dot Art Ideas for Kids
Pointillism art with Q-tips and watercolors (or with tempera paint, especially if you want to try white on black, which looks great)
Dot art on canvas (large scale or small!)
Use paper plates as the base for (many!) dot art ideas (on Tales from the Traveling Art Teacher)
Circle art and printing inspired by The Dot
Kandinsky-inspired circle art with paper collage (on Happiness is Homemade)
Or make a Kandisky circles felt board (on hello, Wonderful)
DIY dot-to-dots for kids and by kids (we also made dot-to-dots with pointillism art)
Aboriginal dot painting (on The Artsy Fartsy Art Room)
Sticker mandalas with circle stickers
Bubble wrap printing (or lego printing)
Lichtenstein-style art with circle stickers (on Pink Stripey Socks) or portraits with crayon dots (on Art Projects for Kids)
Tie dye coffee filters with marker dots (on Elementary Art Fun)
Art with hole reinforcement stickers (and here's another one)
Dot-t0-dot art challenge for kids
Hole punch art and confetti art (on Learn with Play at Home Mom)
Use Do-A-Dot markers or make dot art with regular markers and pens
That was a lot of dot art ideas! Are you ready to give one a try?
Pin It for Later