Mandala art for kids is made extra fun and easy with stationery store stickers. We used them on different colored construction paper cut into circles and even combined the sticker art with drawn details on some of the mandala artworks.
This would make a good art invitation, a simple transition art activity, an art activity that is good for mixed age groups, or a travel art activity.
Enjoy!
Easy Sticker Mandala Art for Kids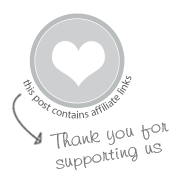 MATERIALS
INSTRUCTIONS
First, cut your paper into circles. I traced an upside-down bowl onto our construction paper to get our "perfect" circles.
You could also use paper plates if you had some just lying around waiting to be used for art or something.
Once you have your circle-shaped paper, set out an assortment of stationery store or craft stickers and dive into making your mandala art.
Apply the stickers in concentric circles or radiating designs. Or in any design you like!
In case you're not familiar with mandalas, they are generally circular forms with radial symmetry. Think of a daisy blossom or a snowflake. Both are nature mandalas.
(I'm working on a bigger, more comprehensive post about mandalas and mandala art that I will share shortly…)
By the way, if you want to include representational stickers that's totally up to you! I put out simple and economical geometric shapes for this activity but Daphne ran to get her fun Pipsticks sticker collection right away.
Finally, if you are so inclined, add additional mandala detail with pens, markers, or any other drawing tool.
Have fun with this!
We've been making some mandala art individually and also doing some as collaborations. Kind of like back-and-forth mandala drawings but including stickers this time around.
Pin It for Later