Choose from three homemade playdough recipes: easy recipe for no cook playdough, the best cooked recipe for playdough and edible play doh.
Updated January 2023
Here are our go-to recipes anytime we need a new batch of homemade playdough.
Homemade playdough is better than store bought for so many reasons! It's easy to make, cheap, and you can make a big batch which really allows kids to use it more expressively and naturally. Plus the homemade stuff is soft and smells good. And when you make your own, you can add your own personal touch with color, essential oils, and glitter (great for pairing your playdough play with seasons, holidays, party themes, and mood!).
Here are our three homemade playdough recipes: a quick recipe for no cook playdough, a wonderful cooked recipe for playdough, and an edible play doh. Plus we include a link to a gluten-free playdough recipe at the bottom of the post.
Homemade Playdough Recipes
This is the no cook recipe we like the very best, which uses the hot water method. We find that we typically make no-cook playdough more often because it's quicker, easier, and the kids can get involved.
Also, don't miss our playdough video which walks you step through making it!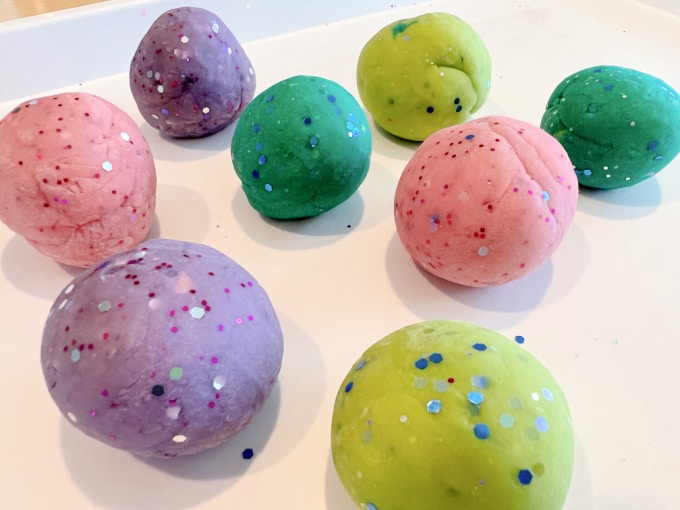 We really love cooked playdough the best; the texture is smooth and playdough rubbery and the batch makes a generous amount to play with. It also lasts just about forever.
This peanut butter playdough is perfect for kids of all ages but is especially great for younger children who still like to 'taste test' while using playdough!
Which batch of homemade playdough do you think you'll try? And want some fun ideas for your new playdough? Here is our ultimate list of ways to play and learn with playdough!
More Homemade Playdough Recipes + Ideas for Kids
Pin It For Later