Catalina of Redviolet Studio shares 5 favorite after school art invitations for kids. Her boys loved these and they're easy to setup in under 5 minutes!
Updated November 2022
I started this art journey with children when my oldest son was born, 9 years ago. I've always had a strong passion towards the arts and crafts, but until then had very few opportunities of sharing it with kids.
Before Martin was born I would spend hours working with acrylics and watercolors mainly, and it was my jam, my happy place. Then, he arrived and flipped my world around. Don't they all, though?
And then 2 years after Manolo came (now 7), I started experimenting with all kinds of activities and invitations to distract them, engage them, (and secretly buy myself some time to do other things around the house, or maybe just drink a cup of tea in peace).
It's not like we do art and crafts activities around here every single day. We don't.
But ever since they were very young, I would try to set up simple invitations to create or explore. And I found that not only did they really enjoy them, but it was a fun and playful way to work on certain skills.
It was also a helpful way to encourage them to focus and connect through creativity and curiosity. Curiosity to try new things, new materials, to figure out stuff on their own, to experiment and to just be.
First of all, let me explain what an invitation to create is. Basically, it's both an opportunity to entice a child to make art as well as an opportunity to introduce a new material, technique, or activity.
Today I want to share with you a few simple after school art invitations that are on my favorite list (for school age kids). These are ones my kids have loved, and I hope yours will too.
Keep in mind that you can make these after school art invitations as simple or complex as you wish; you can always add more materials or work around what you have at home to make it easy to set up in less than 5 minutes.
After School Art Invitations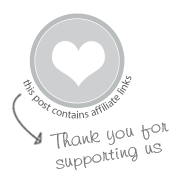 1. Sticker Making
MATERIALS
INSTRUCTIONS
This is one of our all-time favorites! We've been making stickers for years and the boys still love it.
All you need is white sticker paper (or white sticky labels you can buy anywhere) and markers. I've collected stamps over the years so we bring those in too with fine line markers and stamp pads for an extra fun. But you don't really need these.
They can start by drawing on the white side of the paper or label (make sure they are not drawing on the sticky side). Another fun option is to stamp and color their stamp outlines and then cut out their own sticker creations. I guarantee you at least an hour or more of fun!
2. Make Your Own Gift Tags
MATERIALS
INSTRUCTIONS
This is another one we do often as they love the idea of working on a smaller format.
I pre-cut a bunch of small squares and rectangles (about 3×4 or 4x4in) out of white cardboard paper and set it out on the table next to markers and/or watercolors and let them go to town with these. If you have stickers, you can bring some out too.
My kids have been making and selling these for years and they enjoy it so much. I often join in the process as I find it to be relaxing and fun.
MATERIALS
INSTRUCTIONS
Don't be afraid to bring some paint into the game! Watercolors are washable and easy to clean up. And once you mix them with oil pastels the effect is super cool because the oil pastels resist the paint, and the colors pop out really nicely.
It is a relaxing activity, perfect to wind down after a hectic school day. You can use a nice watercolor paper (if available) or just white cardboard.
Along with the paper, the watercolors and the oil pastels, you will need a glass of water, some paper towel and brushes. And throw in a few dot stickers. Stickers are always a good idea, right?
MATERIALS
INSTRUCTIONS
I know the name sounds fancy but I promise this is really fun and easy to set up. I've done it with lots of different things.
Sometimes I use simple stuff I have around the house, like flowers, toys or fruits. When I'm feeling inspired I bring in something more fun like cupcakes or donuts and set them right in the middle of the table next to paper, colors, or any kind of paint you have.
And then I ask the boys try and focus on the objects (or food) on the table and draw/paint them from observation. At the end of course they got to eat the donuts!
MATERIALS
INSTRUCTIONS
Almost every household has some playdough lying around so this is an easy one to set up. My kids (age 7 & 9) prefer clay over playdough, so I try to always have some clay at home. (Crayola has a great air-dry clay that you can buy pretty much everywhere).
So set out either the playdough or the clay next to some tools (you can use things you have at home like old toothbrushes, knives, toothpicks, rollers, scissors, etc.). Add in some pasta, or other loose parts (things such as lids, buttons, sticks, nails, small rocks, etc) and offer no guidance.
Let them do the rest. They will come up with some pretty creative pieces, I promise!
I hope you give these invitations a try! Like I said, you can make it as easy or "fancy" as you desire! But I suggest keeping it simple so it's something you feel comfortable doing often.
I usually try to set up before the boys get home from school and that way they can go right to it while they have a snack and unwind from their day. These are just a few ideas, but as you start doing it, you will come up with your very own, based on the things you have at home.
Let me know how it goes and please share your own invitations to create by tagging us on IG so we can see them and be inspired!
More Art Invitations for Kids
Pin It for Later