Try this simple homemade Easter egg tree to display your decorated Easter eggs. Your kids will LOVE making one for your home!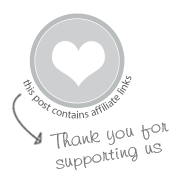 Updated March 2022
If you have baskets of decorated Easter eggs at home and you don't know what to do with them, try an Easter egg tree!
This idea was originally inspired by the wonderful Easter egg tree in Jean's childhood copy of A Time to Keep, by Tasha Tudor.
If you're not familiar with the book, it depicts family and friends celebrating each season and holiday through the year. It is a lovely book to read with your family, all year long!
Here's the two-page spread for April and Easter. Isn't that Easter egg tree just gorgeous? We decided we had to try making our own!
Here's how we did it.
How to Make an Easter Egg Tree
MATERIALS
*Here are 11 Easter egg decorating ideas, in case you need some.
Note: If you don't want to blow out Easter eggs, you could also use those white plastic eggs you see in stores.
INSTRUCTIONS
Prepare your tree

Take a nature walk or go hunting in your backyard for a branch with multiple stems (so you have plenty of spots to hang eggs!).
You can leave your branch natural, or if you are feeling a little fancy, you can spray paint it white.

Stick your branch into your bucket and then fill it with rocks, sand, or dirt.

Attach a ribbon to your eggs

Use a glue gun to attach a ribbon or yarn loop to the top of each egg, so you can hang it.

Decorate your tree!

Add your eggs to the different branches, then step back and admire your Easter egg tree!


This was such a fun and easy project! We absolutely recommend trying this super simple version to display your decorated eggs for Easter.
More Easter Crafts for Kids
Pin It for Later