Try making a pumpkin fairy house this Autumn! Tips and ideas on how to carve and decorate a lovely fairy house from a pumpkin with your kids.
Updated August 2022
We typically carve pumpkins several times each fall, because there are always so many options you might want to try.
One that you will definitely want to attempt this year will be pumpkin fairy houses!
This idea is perfect for all kids, but especially those who enjoy making a fairy houses in gardens and backyards. It was inspired by this pumpkin fairy house and is so sweet.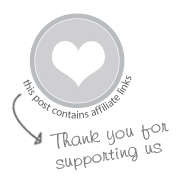 Pumpkin Fairy House
MATERIALS
pumpkins
knife and other carving utensils
scoops or spoons for cleaning out pumpkins
leaves, ferns, and twigs
air dry clay for fairy furniture and accessories
INSTRUCTIONS
Design your house

Use your marker to draw the windows and doors of your fairy house.



Clean out your pumpkin

Either cut off the top of your pumpkin, or cut a door big enough to scoop out all of the pumpkin guts.

Then, cut your windows out, too.

Decorate your pumpkin fairy house!

You can use leaves, ferns and twigs to decorate your fairy house. Large leaves make perfect rugs and blankets! You can use twigs to form the window panes.



We made furniture and small dishes out of air dry clay. Then filled the dishes with berries and seeds found out in the garden.



Note: We also set our pumpkin up on a tray lined with ferns and twigs for easy transporting.

Light it up

You can light a candle in your pumpkin fairy house for a spooky glow!


What do you think? Will you try carving a pumpkin fairy house this year? You can even wait until after Halloween, and make a sweet little addition to your fall garden!
More Pumpkin Fairy House Ideas
Autumn Arts & Crafts Ideas & Supplies
Download our FREE printable idea list of 31 Halloween activities for kids & families! Or just check out the blog post with the links. So many fun ideas for Halloween!
And be sure to check out our FALL family fun list in our Amazon store! It includes supplies for fall arts & crafts, autumn toys, Halloween ideas, and picture books about autumn.
And if you want even MORE Halloween arts and crafts, check out our Halloween Arts and Crafts Workshop at the Kids Art Spot, our kids art club. You'll get 15 videos of fun and spooky art activities PLUS 17 Halloween-themed drawing prompts!
Pin It for Later