How to stock a children's art desk for creativity. Includes ideas & tips for setting up a kids' art desk for everyday use plus some fun art invitations.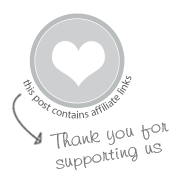 Let me just say right off the bat that there is no one right way to set up or stock a children's art desk or space.
The space itself will depend on all kinds of variables about you, your home, your children, and your current family dynamics.
And so will the materials you use to stock it.
Our own art spaces have changed dramatically over the years.
We started with a little red thrift store toddler table with markers in a homemade marker stand. Plus an adjustable easel at the lowest setting with the crayon tied to it with a string so it wouldn't wander off and, ahem, be used on the walls.
Since then, we've had many permutations of both art spaces and the materials that stocked them. We have made adjustments as the kids grew, our spaces changed, we moved houses, our interests changed, and throughout it all, we have tried new ideas and materials.
That said, I have some ideas to help you get started, to help you re-imagine your current kids art space, or to help you think of new ways to use the current art desk or table (with simple art invitations or kids' craft kits).
Stocking a Children's Art Desk
Here are some ideas for stocking a children's art desk for creativity with Kid Made Modern arts and crafts supplies.
A big thank you to Kid Made Modern for sponsoring this post. As always, all opinions expressed are my own.
Note: For those of you who will ask, the kids' current desk is the MICKE computer desk from IKEA (which you can buy via Amazon if you don't have an IKEA near you). My girls use it for both homework and art and each have a drawer for their own supplies.
Setting Up a Children's Art Desk for Everyday Creativity
For everyday creativity and art accessibility, I suggest stocking the kids' art desk with a few basic, open-ended art materials that can be used in a variety of ways over time. My recommendations include:
Some white art paper
Drawing tools such as crayons (regular or extra fun), markers or colored pencils, pen and pencil
Paints, such as a set of watercolor paints, along with watercolor paper, paint brushes, and a cup of water
Other basic arts and crafts tools such as a plastic place mat or art mat, scissors, glue, tape, hole punch, and pencil sharpener
A task light and chair or stool
Encouraging Creativity with Simple Art Invitations
When you want to change things up or encourage your kids to try a new art material or technique, I suggest setting up a simple art invitation. Here are three ideas using supplies from the Kid Made Modern craft kits.
1. Pom Pom Painting and Printing: Set out two or three small dishes of paint and some paper along with DIY pom pom paint brushes.
We used these pom poms, held in place with a clothespin handle, plus tempera paint.
2. Mixed-Media Collage: Set out paper, glue, and scissors with assorted collage items such as colored card stock, sequins, and colored tape
The supplies pictured here are from the Smarts and Crafts Bright Bundle Craft Kit.
3. Sculpture Fun: Set out a foam base along with a cup of pipe cleaners, chunky beads, and wooden skewers or craft sticks.
These supplies are just a few of many from the big Arts and Crafts Supply Library. You can use floral foam, as shown here, or packing styrofoam for the base of the sculpture.
Another way to offer creative invitations at the children's art desk is to set out an entire kids' craft kit.
Kids Craft Kits as Creative Invitations
Here are some ideas to consider:
I hope you found ideas here that you can use to create or update your children's art desk! Or new ways to use it. And if you have any to add, please leave a comment below!
Pin It for Later
Again, thank you to Kid Made Modern for sponsoring this post. All opinions expressed are my own.