We made some gorgeous DIY bubble wands yesterday! Aren't they just beautiful with the beads catching the sunlight? Plus they worked remarkably well.
As a DIY project, this didn't take much in the way of materials—simply pipecleaners, beads, and wooden dowels (although popsicle sticks or natural sticks from the backyard would work, too).
Here's how we made them…
DIY Bubble Wands with Beads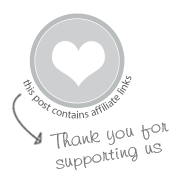 MATERIALS
INSTRUCTIONS
We had the pipecleaners and dowels on hand already and the beads were on sale at A.C. Moore for about $1.50 a bag of assorted shapes and colors which I thought was a great score. I may have to go back and get more…
I don't usually do this, but I tested a few variations of the diy bubble wands first before introducing the activity to the kids.
The wand on the left, with the beaded handle, is what I had planned for us to do. I found the idea via Pinterest, of course. I was inspired by both a blog post by Kleas and by a Flickr photo by ladylucente.
Unfortunately the wire I bought was too thick or the beads I chose had holes that were too small to fit easily over a doubled up strand of my wire (I managed to force them on for this wand but it wasn't easy and I didn't think the kids would be able to manage it with a smile on their faces). So… I quickly came up with a plan B (beaded wire for the circle of the wand) and a plan C (pipecleaner for the circle of the wand).
I tested each with some bubble solution to see which head made the best bubbles. The best was the simple pipecleaner head! Followed closely by the beaded head. The plain wire strand was a rather distant third place. Good to know.
We ended up stringing beads along pipecleaners to make the bubble wand heads. I was too attached to the idea of beautiful beaded bubble wands to settle for the plain jane pipecleaners.
This was a wonderful fine motor control activity for little Daphne, by the way!
The finished wands are lovely. The pipecleaners are twisted around the dowel ends, but I added a bit of hot glue from the glue gun to make sure they stayed in place.
We took the wands out to the garden with a bowl of homemade bubble solution.
And blew bubbles! (Daphne insisted on using the one wire wand and managed to get a few bubbles out of it.)
Here you can see the gussied up pipe cleaner wand (we added beads to the top of the handle with hot glue) make lots of great bubbles.
And one of the many extra big bubbles made with one of the beaded wands.
Ah… What would summer be without bubbles?
More Bubble Ideas for Kids
Pin It for Later ::