Double doodle art is fun, relaxing, and easy! It's also a great way to exercise your brain by using both sides of it simultaneously.
Updated June 2022
We first learned about the concept of double doodle art years ago by Maya Donenfeld of Maya*Made. She wrote about a mesmerizing drawing exercise her daughter learned at school from an art teacher.
We gave it a try, loved it, and have been doing it ourselves ever since.
(Thank you, Maya! Thank you, art teacher!)
Jean included double doodle drawing in both of her books and we are sharing one of our favorite drawing exercises here.
Basically, you draw simultaneously with both hands and markers, creating symmetrical, mirror image drawings.
Here's a video showing double doodle art in action! And don't forget to keep scrolling for more detailed instructions, as well as to see some of our double doodles.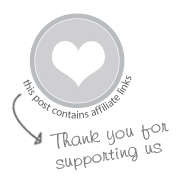 Double Doodle Art for Kids
MATERIALS
INSTRUCTIONS
Begin drawing

Hold a marker in each hand and place the tips side by side at the center of the paper. Begin drawing with both markers at the same time, creating a mirror image.



For example, when the left marker is heading left to the edge of the paper, the right marker should be heading right to the other edge of the paper. When one marker is heading toward the center, the other should be as well.



Keep going!

Continue your double doodle until you feel it is complete. Then make another!



Note: If you need help keeping the paper in place (for little ones, especially) you can tape the corners of the paper down.
It's even fun for adults to try! We typically join right in when our kids are double doodling.
It's also a great drawing activity that you can do year round. We love to make holiday specific double doodles, like eggs and bunnies at Easter, spiders and pumpkins at Halloween, and snowmen and trees at Christmas!
We hope you give double doodle art a try, both yourself and with your kids! It's fun, relaxing, and a great way to exercise the brain as it uses both sides of the brain simultaneously.
Want More Drawing Activities? Visit the Kids Art Spot where we have a Drawing Workshop for Kids. This online workshop for kids and families features 10 super fun and easy drawing activities, each with a step-by-step video tutorial and printable instructions.
More Fun Drawing Games for Kids
Pin It for Later