Okay. So you know that we love drawing prompts and you also know that we love drawing games, right?
Well, the scribble drawing game combines both in one interactive and fun activity so is clearly awesome.
We've done this quite a bit and I wrote about it in my first book (pages 134-135 in the chapter on First Forays into Art) but have never shared it on the blog before.
What was I thinking?!
It's definitely time to remedy that.
Here's a video showing Scribble Drawing in action! And don't forget to scroll down to get the step-by-step instructions.
We often do scribble drawings at restaurants while waiting for our food. But also other times. The kids get a big kick out of doing scribble drawings with each other. (Unlike with the back-and-forth drawing game, which they mostly like to do with me.)
I even came across them using one of the iPad drawing apps to play the scribble drawing game together a couple days ago.
Here's the how-to, plus photos from some recent rounds of this game…
Scribble Drawing Challenge
MATERIALS
Paper (any kind or size; we've even done this on paper napkins)
Pens, pencils, crayons, or markers (again, anything goes)
INSTRUCTIONS
1. Each person scribbles something quick on their sheet of paper.
Maia insists that we close our eyes and don't look at the scribble we are producing but I don't know where she got that rule. I think it's just fine to look and even make an intentional scribble before handing it to the next person.
2. Swap scribbles (or, if more than two people are playing, each can hand theirs to the person on their left).
3. Look at the scribble in front of you to see what the lines suggest or remind you of (you may want to turn it various ways to look at it from different angles).
4. Finish the scribble drawing by adding your own lines and marks, turning the scribble more into the thing it reminds you of.
5. Share your finished scribble drawings with each other.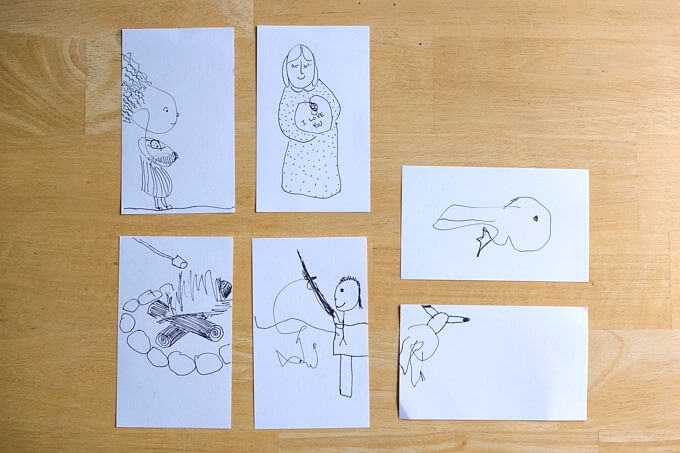 Here are some scribble drawings we did on plain index cards (the perfect size for stashing in your purse for restaurant or waiting room drawing sessions!).
How about you? Have you played the scribble drawing game? Have you introduced it to your kids?
Pin It for Later ::