Create paper heart doilies for Valentine's Day and turn them into beautiful heart suncatchers. These are easy to make with tissue paper and contact paper.
Updated December 2021
We love these tissue paper heart doilies! We were inspired to make them because we loved making papel picado. And then we turned them into suncatchers!
These paper heart doilies are so easy to make, and they brighten up just about any window!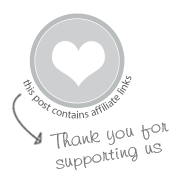 How To Make Tissue Paper Heart Doilies
MATERIALS
INSTRUCTIONS
Cut heart shape and fold

To begin, cut a heart out of tissue paper. You can make two or three at a time, since the tissue is so thin.

Then fold the heart as if you were making a paper snowflake (which is essentially what we are doing).



Cut shapes

Next, just like with a paper snowflake, cut out shapes. You can even cut out a few little hearts.



Open!

Next, open up your paper heart doily and lay it flat!



Create your suncatcher!

Trim a piece of clear contact paper large enough to cover the heart.

You can layer contrasting tissue paper hearts and sandwich them between two sheets of con-tact paper to make the suncatchers.
Lastly, hang your suncatchers in the window and let the sun shine in!
What's your favorite Valentine's Day craft project?
More Heart Art Activities
Pin It for Later