Oh! I'm so excited about these! I made tissue paper heart doilies yesterday, inspired by the papel picado I did last year. And then I turned them into suncatchers!
To be honest, a week ago I was not that excited about Valentine's Day and all the hearts.
Not that I have anything against hearts. I guess it's the assumption that our arts and crafts should be heart-related for a few weeks. Just like around Halloween it's all about pumpkins and ghosts. And, well, it sounds a little too limiting to me. And maybe a little boring.
But for some reason, every year I really get into it. Five out of my last six posts have been Valentine related. I thought I'd just post one or two ideas and that would be it. But no. Each idea seems to spawn other ideas.
And really, there is A LOT you can do with a heart.
Maybe that's what makes it fun. Holiday themes give you a framework around which to work, but you can let your creativity loose within that framework.
Anyway, back to the tissue paper doilies…

How To Make Tissue Paper Heart Doilies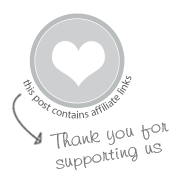 MATERIALS
INSTRUCTIONS
1. Cut heart shape
To begin, I cut a heart out of tissue paper. You can make two or three at a time, since the tissue is so thin.

2. Fold heart
Then I folded the heart as if I were making a paper snowflake (which is essentially what I did).
3. Cut shapes
Next, I cut out my shapes, including a few little hearts.
4. Open and lay flat
And opened it up to see the doily.
5. Con-tact paper
Trim a piece of clear contact paper large enough to cover the heart.
I layered mine with contrasting tissue paper hearts and sandwiched them between two sheets of con-tact paper to make the suncatchers.
6. Hang in the window!
I also made one with the hole punch, taking my lead from Maia.
So what do you think? Are we going a little heart crazy over here?
What's your favorite Valentine's Day craft project? Leave a comment below!
Pin It For Later