I hope that you enjoyed a wonderful Christmas day with your family (or Hanukkah or Solstice if that's what you celebrate)!
The energy and excitement that children bring to the holidays is certainly contagious and so fun.
Also a little crazy, though, I have to admit. Our house looks like a hurricane swept through it and I'm already starting to think about cleaning, purging, and organizing in preparation for the new year.
I wanted to post about these candy cane lollipops before Christmas and just didn't quite make it, so here you go.
Perhaps you could make these with leftover candy canes? Or save the idea for next year. I also think these might be good for Valentine's Day, even though candy canes seem so very Christmas-y to me.
Maia and I have been making and giving these lollipops this past week. The idea came from Sharnel at My Life – My Loves (via Pinterest of course!). We simply added lollipop sticks to turn them into lollipops.
How to Make Candy Cane Lollipops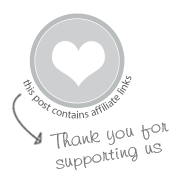 INGREDIENTS
INSTRUCTIONS
These lollipops were Maia's baby. She was in charge of all the steps except for melting and pouring/spreading the chocolate.
She unwrapped the mini candy canes, put two together to make heart shapes (on a parchment paper lined cookie sheet), and added lollipop sticks.
I melted a bag of chocolate chips (bittersweet for one batch, semi sweet for another) in our double boiler then drizzled the chocolate into the candy cane heart shape with a spoon.
Maia shook on some rainbow sprinkles on some and added white chocolate chips to others.
The white chocolate chip idea was Maia's. We tried melting some for a layer of white chocolate as Sharnel did at My Life – My Loves, but it just made a congealed mess. Not sure what I did wrong there.
But Maia really wanted to use the white chocolate chips to decorate some of the candy canes so she added them individually. They look great!
Afterward, we just let the lollipops sit until the chocolate hardened…
…then popped them into little candy bags that we tied with a red ribbon. So pretty!
We brought a basket full of them to a holiday party and also added them to the cookie plates we gave out.
So if you're looking for a festive holiday treat that your kids can make (or help make), this is a good one!
Pin It For Later