Learn how to make a fairy house using air dry clay. Extend activity and encourage hours of imaginative play for kids.
Everyone loves to make fairy houses!
The details are just adorable: tiny little doors and windows, pitched roofs with miniature chimneys, little gardens for the make-believe inhabitants.
It's the kind of craft activity guaranteed to encourage hours of imaginative play. And it is an achievable clay project to try at home–even if you're new to ceramics.
As there are lots of materials pressed into the clay, these pieces can't be fired so we'll use air drying clay or paperclay for this project.
Pro tip: Do some Googling beforehand as there are lots of inspiring fairy houses out there!
The Magic of Clay
I've spoken before on this blog about how much both kids and adults love playing around with clay and it is always the most popular activity at our art studio.
This project is another very fun activity to complete together with your child. Younger children especially, will need assistance with the rolling of slabs and joining clay pieces.
How to Make A Fairy House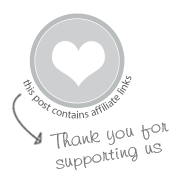 MATERIALS
clay modeling tools
wooden skewer
a very small amount of water in a bowl
wire for cutting clay
wooden board or cloth (porous surface to work on)
dried beans, split peas, & shell pasta
small pebbles
dried leaves & flowers
natural colored feathers
sticks, matchsticks & popsicle sticks
rectangular paper stencil about 7.75 inches by 2.75 inches (for wall)
semi-circle shaped paper stencil (for roof)
glitter (optional)
INSTRUCTIONS
Create the base

Start with an adult palm-sized piece of clay and press it into your paper plate to create a thick base, adding more clay as you go.

Encourage the kids to create lots of texture with their fingers or clay tools to make an interesting surface for the fairy garden.



Make the fairy house walls

Roll out a flat slab of clay about 1/2u0022 thick (also known as u0022pancakesu0022). Place the paper stencil on top and lightly trace around with the wooden skewer.

Now remove the stencil, cut the clay and remove any of the excess clay.

Pro tip: Be sure to ball up the leftover clay immediately to prevent it from drying out too much. 
Leftover clay can be used to add details later on.

Pick up the rectangle of clay and carefully curl it inwards into a circle and place it on the base slab standing it upright to form the walls.



Join the walls to the base of the fairy house

In order to join the walls firmly to the base, first score (scratch) both surfaces to be joined, add a little water (slip) with your finger to both surfaces, and press together.

Do this for the vertical join in the wall as well.
Then smooth all around the bottom of the wall and vertical join.
Finally, add a thin coil (clay sausage) to the bottom of the walls inside the house and smooth to strengthen.



Cut out a door and the windows of the fairy house

Use the wooden skewer to carefully draw and cut out a door and windows.

Pro tip: Be sure to keep the windows SMALL or else your walls might collapse under the weight of the roof!



Make the fairy house roof

Use a semi-circle-shaped paper stencil to create an upside down, cone-shaped roof from a clay slab (in the same way we created the walls).

You will have to experiment with the size of the paper cone until it fits.
You'll need to roll up the cone roof and join it together before placing it on the walls.
There's no real need to attach it to the walls but you could try to add a coil inside and smooth the walls and roof together. This is a fiddly job however!



The fun bit––decorate your fairy house u0026 garden!

Go nuts and decorate your fairy house and garden with the natural materials you have on hand. Here are some ideas:

– Make a little pebble garden path, use leaves for trees and matchsticks for a tiny picket fence.
– Press beans or shell pasta into the roof for tiles and add little sticks to the door so that it looks like real wood.
– We fixed tiny little twigs into the window cavities to mimic window panes and used dried real flowers in the garden.


As a finishing touch, you might wish to add some magic sparkle all over by adding GLITTER!
I hope you have fun making a fairy house out of clay!
If you enjoyed this project, then be sure to try these other clay art projects for kids!
4 More Clay Art Projects for Kids
Pin It For Later