How to make simple flower crowns for kids with paper bags, duct tape, and fresh flowers. A fun craft that doubles as a pretend play accessory for children!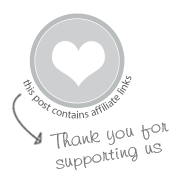 Ha! These flower crowns are making me think of The Paper Bag Princess by Robert Munsch. Truly one of the best princess books ever.
But Princess Elizabeth still had her presumably solid gold crown on her head when she outwitted the big scary dragon that had decimated her castle, burned her forests, and carried away the prince she was betrothed to. If she hadn't, I don't think she would have bothered with something so frivolous as a crown.
However!
Any small kiddos in your house who like to play princesses, king and queen, or flower fairies would probably like to make and wear these pretty flower crowns.
Especially now that there are flowers everywhere.
We first made a version of these DIY flower crowns about five years ago, inspired by a post from Maya*Made, and decided to make them again to take advantage of all the beautiful flowers in bloom right now.
Here's the simple tutorial… Have fun!
How to Make Flower Crowns for Kids from Paper Bags and Duct Tape
MATERIALS
A brown paper grocery bag (or brown kraft paper)
Scissors
Duct tape (white is especially nice for these but the regular gray kind works too)
Flowers
Stapler
(Optional) glitter and markers
The Flower Crown Tutorial
Step 1: Assemble Materials
Assemble your materials and cut open the brown paper bag.
Step 2: Cut Crown from Paper Bag
Cut a zig-zag line along one of the long edges of the paper bag, with the top of the zag about 3 inches from the edge. This piece you're cutting off will be one crown.
Now cut a straight line on the other side of the zig-zag. This second piece will be another crown.
(You can keep going if you like. We made four crowns from one paper bag.)
Cut each paper crown down the center the long way as shown in the photo above.
Step 3: Add Duct Tape
Run a piece of your duct tape down the center of the two pieces of the crown, sticky side up…
Then lay the top and bottom pieces of brown paper crown onto the sticky duct tape so that they overlap the tape by about half an inch. Press firmly to adhere, then trim off the excess duct tape at the end.
See the four naked crowns we made from one paper bag? Now we need some colorful flowers to turn these into flower crowns.
Step 4: Gather Flowers for Crown
There we go! Lots of fresh flowers from the garden!
Step 5: Add Flower Petals to Crown
Now choose your flowers and press individual flower petals and whole flowers to the sticky duct tape to create the pattern or design you desire.
Step 6: Decorate Crown (Optional)
Add glitter if you like!
And marker embellishments.
Step 7: Staple Crown
Now wrap the crown around the child's head to determine fit and staple the ends together.
Wear the new homemade crowns! And if you want to make a paper bag dress to go with your new paper bag crown, then go for it! 🙂
Ready to make some pretty flower crowns of your own? This would be a fun playdate or party activity!
Note: You could easily modify this tutorial to make different kinds of paper bag crowns. For example, try colored tissue paper, autumn leaves, sequins, or fabric scraps for your decorations.
3 MORE Ideas for Handmade Kids Flower Crowns
DIY Flower Crowns and Necklaces (Gorgeous stained glass!)
Flower Fairy Crowns (and a recipe for tasty blueberry hand pies)
A Kids Flower Crown Tutorial with Floral Wire (Beautiful! On The Wishing Elephant)
3 More Fun Accessories for Pretend Play
(Any of these would go great with your crowns!)
Pin It for Later