We've dyed pasta a few times now and used it to make pasta necklaces, pipecleaner caterpillars, and pasta collages, so when the Rockin' Art Moms issued a macaroni challenge,* I was all over it. I was familiar with using pasta for kids arts and crafts but also excited to branch out and try something new.
We ended up doing two new pasta art activities for kids, both hits.
First, though, we dyed our pasta which is super simple.

How to Dye Pasta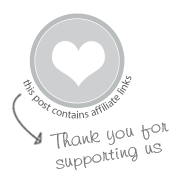 MATERIALS
Dried pasta, various shapes and sizes as desired
Plastic ziploc-type bags
Rubbing alcohol
Food coloring (liquid not gel) or liquid watercolor paint
INSTRUCTIONS
1. Place your pasta shapes in the plastic bag, one bag per color.
2. Add a tablespoon or so of rubbing alcohol, close the top, and massage the bag to distribute the alcohol.
3. Open the bag, add your food coloring or liquid watercolor paint, close the bag again and massage to distribute the color.
4. Spread the pasta out on cookie sheets or a wax paper-lined surface to dry.
Now you're ready to use the colored pasta for kids art activities!
Now that you have your pasta dyed, here's a video showing Pasta Arts and Crafts in action! And don't forget to scroll down to get the step-by-step instructions.
Pasta Art Activity #1 – Pasta Sculptures
We started with this pasta sculpture idea and returned to it several times over the past week. The kids especially liked working on these during our read-aloud time.

MATERIALS
INSTRUCTIONS
Use the air dry clay as the base of your sculpture and poke pipe cleaners and/or dowels in the clay. String with pasta beads. Add additional pipe cleaners and pasta as desired until the sculpture is complete.
You can also press colored pasta into the sculpture base or into air dry clay on it's own.
The kids each made and decorated doughnuts this way.
And little pasta people.
And you can, of course, use the pasta shapes with just pipe cleaners, threading them on for bracelets, sculptures, spirals, or even letters.
Pasta Art Activity #2 – Pasta Mandala Collage
We made these when Maia had a friend over and everyone loved them!
MATERIALS
Colored pasta shapes
Sturdy paper plates
Glue
INSTRUCTIONS
Glue the colored pasta shapes on the paper plate in a radiating mandala design.
You can also make a face collage, as Maia did, or any other pasta design you like.
Want more pasta art ideas?
Now that you're excited about the potential of pasta, check out some of these other arts and crafts projects you can make with it!
14 More pasta art activities for kids
Everyone who joins us in the Macaroni Challenge will be entered in an amazing Rockin' Art Moms Gift Basket giveaway. The winner will be selected at random from the entries and announced on Instagram and the Rockin' Art for Kids Facebook page on Sunday May 10th, 2015.
Update: Challenge and giveaway now over
Prize basket giveaway will include 6 books from the Rockin' Art Moms:
The Artful Parent and The Artful Year
from The Artful Parent // Playful
from Mer Mag // Tinkerlab
from Tinkerlab //150 Screen Free Activities for Kids from Fun at Home with Kids
// Happy Handmade (ebook) from MollyMoo
Pin It for Later