Keep kids busy with these creative kids travel activities. Includes ideas for engaging toddlers and big kids too on a plane, train or car!
Updated May 2022
A few years ago my family traveled to Spain with our toddler and baby. It was an amazing trip, but we were honestly, very tired. In a way, we wanted to prove to ourselves that we could still do something we value, but with kids in tow.
And you know what? We did!
Kids are far more resilient than we give them credit for. And most of the time travel is super exciting for them! (There are meltdowns from tired kids too, of course.) But what we gain is far more.
Wider perspectives, new ways of doing things, new ways of seeing our kids and ourselves––to name a few.
For some of you, maybe travel is by necessity. Maybe you're like our family, who often travels to visit family that lives far away.
Whatever reason you're here, I hope you'll find some ideas to help give you the confidence that You. Can. Do. This! And as my kids are now a little older, it's already getting so much easier.
Kids Travel Activities
Traveling with kids is fun, scary and exciting. It can mean handling your child's energy and excitement on less sleep, in a variety of settings. But you'll adapt your toolkit, gain new parenting skills along the way.
Fortunately, it's pretty easy to bring along some packable activities to maintain a sense of normalcy. In general we maintain a lot of the same routines on the road (activities in the mornings, quiet time or naps in the afternoons, and low key evenings).
Here are some of my favorite kids travel activities that have stood the test of time. Most of these are open-ended and adaptable to your child's specific interests.

I tend to keep these items separate so there is a novelty factor while traveling. These were all easily packable and didn't take up much space in our bags.
Oh and don't forget snacks! When you think you might have enough, pack a few more! You never know when a flight might be delayed, restaurants might be closed at your new locale, etc. It sure beats hangry kids.
Alright, here we go!
Travel Activities for Any Age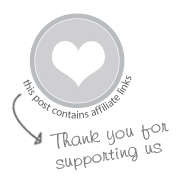 I bring along a large drawing pad for my toddler and sketchbook for my older son. It's a nice excuse to get a new set of markers for each child and maybe some fun extras like tempera paint sticks or gel crayons. Add some sticker gems to extend the activity. 🙂
This clay is a major staple in our household and keeps my active son quiet and busy for many hours, whether at home or while traveling. It's cheap, never dries out and inspires many creations. I highly recommend!
A small container of playdough will get you by in a pinch and is great for the 1-3 year old crowd especially..
3. Headphones + podcast/stories
Each of our kids has their own special headphones and we have a splitter cable so they can listen to stories together from our phone or iPad.
Travel Activities for Toddlers (1-3)
These Melissa & Doug sticker pads are my go-to for toddlers. To me, these are such a great value. They come with a number of sheets per pad that can be rotated through with your child.
These boards seem to mesmerize toddlers and both my kids did them over and over again at this age. A nice mess free activity while on a plane or in the car.
There are so many of these out there, but my mom gifted us a set of Wee Gallery stitching cards. I like them because they're sturdy for little kids to hold onto while learning this new skill.
While in Spain, we were preparing for the flight back and I stopped into a little bodega looking for some new things to help us with the long flight home. Kinda random, but I found these items kept my toddler busy and his imagination active.
Sort and stack the sticks, create a sparkly star or any other shape/sculpture with the pipe cleaners. And all for $.99!
5. A small toy
Often a new little toy can entertain this age for quite a while. Maybe a little car, train or doll––play to your child's current interests and keep it hidden until that moment.
Travel Activities for Preschoolers / K (Ages 4-6)
These travel cards are wonderful! I love the open-ended the drawing prompts. There are additional packs available as well:
Pro tip: Substitute washable markers for dry erase markers as they can stain kids' clothing.
We stayed at an Airbnb that had one of these magnetic books and our kids played with it the whole time we were there. What a happy surprise! There are many variations and themes to choose from.
Pro tip: This isn't ideal for plane travel as it's on the bulkier side.
We have the Wikki Stix Alphabet cards but there are so many different choices available–numbers, shapes, animal and much more!
This book was written by our founder, Jean Van't Hul and filled with fun drawing prompts for kids. Great to slip into a backpack for pulling out at restaurants, etc.
Use big white labels to draw your own stickers inspired by what kids' see during their travels.
We've also enjoyed geoboards, scratch art cards and these pattern shapes and cards. Along with thin chapter books for reading along the way!
I hope these ideas are helpful and will spark new ideas for engaging with your own kids while traveling as a family.
It can feel daunting to travel with kids, especially with babies and toddlers. But I find the opportunity to connect with my kids while being disconnected from my normal life, is a really special opportunity.
My kids thrives when they have all of my attention, undistracted. And those memories of our time spent together will last a lifetime.
More Kids Travel Activities
Looking for more ideas for traveling with toddlers or kids?
If you're preparing for a big trip this summer think about what your child likes at home. Is it adaptable for travel? Relatively mess-free? Doesn't take up too much space?
Post your ideas below, I'd love to hear them!
Pin It For Later