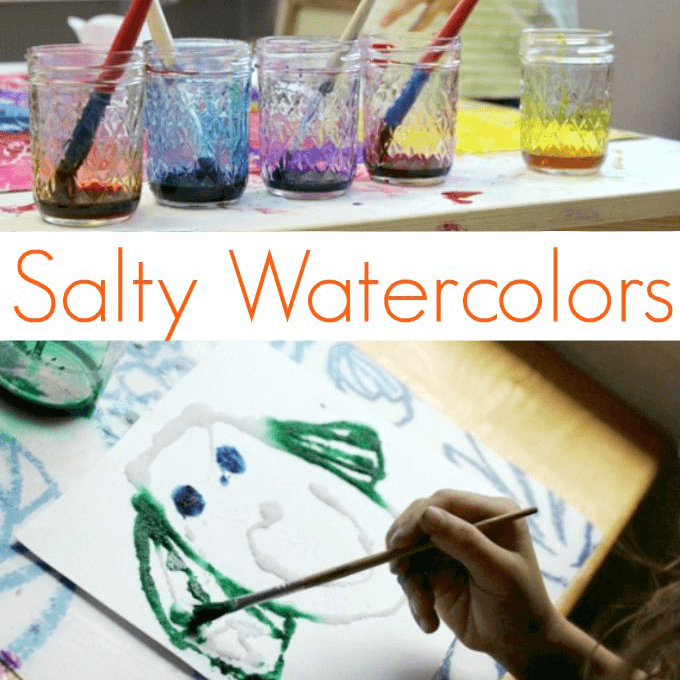 Watercolor and salt painting is one of our oldest favorite art activities and one of the very first art activities that I posted about when I started this blog.
Now that Maia is 7 and Daphne is just a tad older than Maia was that first time, it's interesting to see the changes that age and development make.
Whereas in the past, Maia made abstract designs with the glue, this time she mostly created more deliberate designs, words, and illustrations of real things such as faces and a tree.
Daphne, of course, made abstract artwork after abstract artwork.
Watercolor and Salt Painting
MATERIALS
*If you don't have liquid watercolors, food coloring diluted with water works, too.
Daphne has a lot more staying power than Maia did at 2 1/2. Instead of working on a couple pieces of art and moving on as Maia would have, she matched her big sister for time, quantity, and enthusiasm.
I wonder how much of it has to do with her personality and how much has to do with having the example and companionship of her older sister… (I think about this a lot, by the way—not just how it relates to art, but to everything.) I find it interesting how different two siblings experiences can be within the same home with the same parents.
Anyway, I digress…
Here are some pics and step by step instructions for the watercolor and salt painting.
Because if you haven't tried it yet, you'll want to.
Watercolor and Salt Painting Instructions
1. First, use a glue bottle to squeeze out your design, word, or picture onto sturdy paper (try watercolor paper
, poster board cut down to smaller pieces, or tagboard
.)
2. Sprinkle salt generously over the surface of the glue design so that the glue is completely covered with salt. Tip the paper and shake off the excess salt. We do this step over a bin filled with a container or two of cheap table salt.
3. Next, dip a brush in liquid watercolors
and touch it gently to the salt covered glue lines. Watch the paint travel along the salt and glue.
Younger kids often paint and "scrub" with their paint brush (or in this case with two at once) rather than delicately touching the painty brush to the glue lines. That's okay, too.
4. Let dry for a couple of days. Here you can see Daphne's salt painting artworks on the left and Maia's on the right.
Here's a video of the watercolor and salt painting process by my friend Valerie Deneen of Inner Child Fun ::
Doesn't that make you want to try it?
By the way, you can see that she uses a dropper instead of a paint brush. That works, too!
Here Are The Finished Artworks
Admire the sparkly, glittery salt paintings with their relief designs!
Both the more realistic images of the older kids…
…and the more spread out watercolor and salt painting abstractions of the little ones.
If you haven't tried this yet, please tell me you'll give it a go soon! (And feel free to share pics on my facebook wall!). It's a big-time favorite in our house, both with our kids and with many others who've been here for art groups and playdates.
Pin It for Later