Spin painting is a favorite kids' art activity that can be done two ways: with a salad spinner or with a commercial spin painter. Your kids will LOVE trying either method out!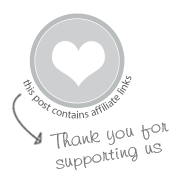 Updated January 2023
Have you tried spin painting with your kids? It's so much fun!
We've done this action art activity with salad spinners quite a bit in the past with kids of all ages with good results. Many of us have salad spinners in our homes and the paint washes off easily afterward.
However!
We recently tried a spin art machine and loved it.
Here's a video showing Spin Painting and Spin Drawing in action! And don't forget to scroll down for more detailed instructions.
Spin Painting with a Spin Art Machine
The spin painter we use is one made by Alex specifically for children's spin art but unfortunately it is no longer available on Amazon. But there are many other options still available, and they all look great!
When we bought the machine, we didn't realize that it was an entire kit that included not only the spin art machine itself but also four squeeze bottles of paint, paper, and display cards.
When we ran out of paint, we just refilled the squeeze bottles as well, using some of the kids' paints we have already – BioColors or tempera paint work great – and watering them down a bit. This has been a fun opportunity to try different colors and types of paints.
The kids have been obsessed with this spin painter! They pretty much haven't stopped making spin art since it arrived on our doorstep. They especially loved watching the entire spin painting process through the transparent lid.
We haven't tried any of the other spin art machines out there, by the way. (Have you? We wonder how this one compares to the others…)
But we can compare it to a salad spinner!
Spin Painting with a Salad Spinner
Spin painting with a salad spinner is awesome for many reasons! First of all, the spinner is free (if you already have one!) or very inexpensive if you need to buy one at the store.
While the spinner doesn't come with the paint supplies like the commercial spinner does, it's easy to gather what you need. Use whatever paints you have and either small squares of paper or small paper plates.
We also love the surprise factor with the salad spinner: the top covers the spin painting action so the spin artwork is a surprise each time. Kids add the paint, close the top, spin, then open the top to reveal the finished spin painting.
We have yet to meet a kid who doesn't like spin painting, and if you haven't tried it yet, we highly recommend giving it a try whether with a salad spinner or a machine. (And if you have done it before, perhaps it's time for another round?)
The big question is what should we do with all of these spin paintings?
You can make a bunting with some of the art, using washi tape to attach the paintings to yarn.
You can glue some to DIY art journals.
You can use some to make notecards.
Or you can display your favorites in a special place!
More Fun Painting Ideas for Kids
Pin It for Later