Spin painting is a favorite kids art activity that can be done with a salad spinner or with a commercial spin painter. This post shares both fun methods.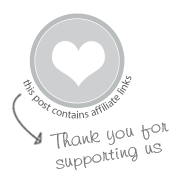 Have you tried spin painting with your kids? It's so much fun!
We've done this action art activity with salad spinners quite a bit in the past with good results (including with a toddler art group and later with a classroom full of five and six year olds). Many of us have salad spinners in our homes and the paint washes off easily afterward.
However!
We recently tried a spin art machine and loved it.
Here's a video showing Spin Painting and Spin Drawing in action! And don't forget to scroll down for more detailed instructions.
Spin Painting with a Spin Painter
The spin painter we use is one made by Alex specifically for children's spin art (ALEX Toys Artist Studio Fantastic Spinner) and it worked great. The kids especially loved watching the entire spin painting process through the transparent lid.
When I bought the machine, I didn't realize that it was an entire kit that included not only the spin art machine itself but also four squeeze bottles of paint, paper, and display cards.
We used up all the paper in the very first, enthusiastic session. But it was easy to cut down additional paper to the right size to use.
When we ran out of paint (after the 2nd or 3rd session—I've lost track), I just refilled the squeeze bottles as well, using some of the kids' paints we have already—activity paint, BioColors, and tempera paint—and watering them down a bit. This has been a fun opportunity to try different colors and types of paints…
The kids have been obsessed with this spin painter! They pretty much haven't stopped making spin art since it arrived on our doorstep.
The big question is what should we do with all of these spin paintings?
I made a bunting with some of the art, using washi tape to attach the paintings to yarn.
We glued some to DIY art journals we made.
We'll probably use some to make notecards.
And we might mount a selection of our favorites on a piece of poster board for display.
I haven't tried any of the other spin art machines out there, by the way. (Have you? I wonder how this one compares to the others…)
But, I can compare it to a salad spinner!
Spin Painting Comparison
In which I compare a spin art machine with salad spinner spin art… Please note that they are both awesome. I'm psyched about the machine at the moment because we just tried it, but I'm not knocking salad spinner art at all. They are just different.
PRICE
Salad Spinner: "Free" if you already have one.
Spin Art Machine: I bought mine for $11.39 on Amazon although the list price is $28.
SUPPLIES
Salad Spinner: DIY all the way, baby. Use your paints and your paper (we use small paper plates).
Spin Art Machine: It comes with four squeeze bottles of paint and paper. Although, as we mentioned above, we ran out of paper after our first session and ran out of paint after a while as well. So we use our own paints and paper now. Note: You can buy a refill of the spin art supplies (paints and paper) but I think it would be pretty easy to refill on your own. And definitely cheaper.
BODY MOVEMENT
Salad Spinner: Depending on the type of salad spinner you have, spinning it can use the entire upper body (good if you have active kids).
Spin Art Machine: You pump the handle to work the spinner. My two kids worked in tandem sometimes—taking turns pumping the handle while the other added the paint—and worked alone sometimes. It was easy Daphne (age 5) and her four-year-old cousin to pump the machine with one hand while squirting paint on the paper with the other.
HIDDEN vs EXPOSED
Salad Spinner: The top covers the spin painting action so the spin artwork is a surprise each time. Kids add the paint, close the top, spin, then open the top to reveal the finished spin painting.
Spin Art Machine: Because of the transparent splatter cover, kids get to watch the entire mesmerizing spin art process from start to finish.
THE PROCESS
Salad Spinner: All decisions are created ahead of time, although you can decide to add more paint to a spin painting, close the lid, and spin again.
Spin Art Machine: Kids make decisions about paint colors and amounts to add as they go and see the paint spin out over the paper into various designs.
I have yet to meet a kid who doesn't like spin painting, and if you haven't tried it yet, I highly recommend giving it a try whether with a salad spinner or a machine. (And if you have done it before, perhaps its time for another round?)
Besides spin painting with the salad spinner and with the kids spin art machine, there are a few other spin painting ideas I've come across that look interesting.
More Spin Painting Ideas for Kids
How About Some Spin Drawing Ideas?
Pin It for Later