Do you have babies or young toddlers at home? Guest author Sylva Koloska shares about first art activities for toddlers and infants.
Updated February 2022
My daughter is very little still (16 months), so I'm a beginner in doing art at home with kids. Yet as an artist and art educator this comes naturally to me.
We tend to do more sensory experiences than art sessions at home. But no matter what we do, my daughter uses all her senses to explore the materials.
She examines materials for sensory play with her hands, feet and mouth. She sometimes even decides to sit in it!
I love to do these activities with her as it allows us to have special time together to connect and get to know each other even more. Sometimes we do family painting sessions which is really lovely to get creative and spend some messy time together.
Activities for Toddlers and Infants
For the first art or sensory experiences, you can basically use anything you find in the kitchen (at least that's taste safe). This allows babies and little kids to put their hands in all kinds of materials and explore!
You can easily make your own finger paint, moon sand or Oobleck with simple ingredients like flour or yogurt. Add a bit of food coloring and the magic is done.
But if you're not in the mood to get messy, try using only dry materials like oats or rice. Add some bowls and spoons and your little one will have fun for longer than you expect. Especially when you sit beside them and play along.
If you really want to have fun, add water! Every kid loves water play!
And remember…every child is different. What might be a favorite activity for one child may only hold another child's interest for five minutes. And that's okay.
When & where we do our art experiences
We do our sensory activities whenever we have (or make) time. But always with a full belly and not right before bedtime.
I usually choose a day when my husband is at home for painting projects. When we're done he can take care of our little girl while I clean up the artsy mess. I don't need a little helper to spread the colors across the entire flat, right?
I find good preparation is half of the success. More preparation before = less stress during and after!
When we paint, I use a drop cloth to cover the floor that will most likely be used as an art space. But don't think it will just stay on the floor! The little person can suddenly decide, she wants to go vertical and half of your kitchen will end up in bright colors. (That's why we paint in the kitchen and not in the living room!)
We don't have a dedicated art space yet, but we do our sensory activities literally everywhere we can. It depends on the activity and weather but the balcony, kitchen, living room are all possibilities.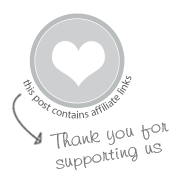 Even the kitchen cupboards can also be used as an art space! Attach some recycled cardboard or just cover it up with some wrapping paper.
I love to use our tuff tray for all kinds of sensory activities as it helps to keep materials contained.
Observe your child's interests
When you observe your child during these activities, you will see what they're interested in right now.
I recently noticed that my daughter is actually not so keen on the paint and painting itself; she would rather explore the brushes. She is more into objects.
So, the next time I added some recycled egg cartons and boxes besides the usual paper, and she loved it! She was painting with the brushes and her fingers all over every object.
Idea gathering
I like to use my Instagram account like a diary of our activities so I can keep track of what we did and when. I also have a list of activities which I want to do with my daughter, so when the right time comes, I have ideas and everything that I need for the activity at home.
For art experiences and inspiration, I go to my favorite art books. And Instagram or Pinterest are also great sources of inspiration.
More Toddler and Baby Art Ideas
Pin It for Later