Create DIY stamps with cardboard and other items from your recycling bin. Then make print after print! Art activity and post by Joanna Walker of The Blue Barn.
Hello, Joanna here from The Blue Barn. I'm so excited to be back at The Artful Parent to share more simple ways to create with your children!
If you don't know me, I'm a part-time preschool art teacher and full-time mom to four children, 6 goats, 2 rabbits, a dog and way too many chickens. When I'm not chasing children and animals around, I enjoy sharing our creative life over on Instagram. I'm delighted to have the opportunity to share some recycle bin printing with you!
Today, I'm going to show you how to have fun printing with items upcycled straight from your recycling bin.
The important thing is to let kids be a part of the process and work with you to create their own DIY stamps. They will enjoy discovering how various materials leave different marks on the paper during the printing process.
You can also introduce them to textures within their pictures that relate to the items that they find.
Before we get too far ahead of ourselves, though, what do you need to begin?

DIY Stamps Made with Upcycled Materials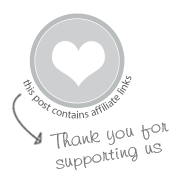 MATERIALS
Glue (we used our low temp hot glue gun but school glue would work as well)
Corks (for handles on the printing blocks)
Interesting things from your recycling – think cardboard, bubble wrap, fruit mesh bags, elastic bands, yarn, string, bottle caps, corrugated cardboard. Really anything goes!
Paper
INSTRUCTIONS

Step 1. Find items to use for the DIY stamps.
Creating the stamps for this project is a huge part of the process!
Our foods come in a variety of packages these days, and I always encourage recycling as much as possible. I am also a big believer in upcycling and giving items a second use when possible. Packages often have fabulous textures that are great to use for art projects.
Begin by asking kids to sift through the recycling bin with you and see what interesting things they find.
Round bottle caps, bumpy edges, rough feeling sides—have them feel things with their eyes shut and think about what pattern it might make on the paper.
With very young children use lots of adjectives such as smooth, soft, fuzzy, bumpy, rough Does the package have a ridge or a hole? What pattern do you think it might leave on the paper?

Step 2. Assemble your DIY stamps for printing.
Once you've found some interesting materials, you can begin to attach them onto squares of cardboard. We used our low temperature hot glue gun to mount the objects. Depending on the age of your child/and your hot glue gun, encourage them to do this themselves. Younger kids can use school glue to assemble their stamps.
For thinner printing items (such as a fruit mesh bags), stretch them over the cardboard square and secure on the opposite side with glue. Then attach a cork to the back of the print plate to give your child something to grip when they press it into the paint.

Step 3. Prepare paint for printing.
Before printing, cover your flat surface with something to protect it.
Next, roll a line of foil down the center of the table to put the paint on; the surface of the foil makes it easy for kids to apply the paint to their stamps.
I lined all of the stamps up and placed a different color of paint by each one. I encouraged the kids to keep the stamp in only one color and to choose a different stamp if changing color – this avoids all the messy brown when separate color families mix. Of course, we also want to encourage kids to make this project their own, so if colors get mixed, that's ok, too!

Step 4. Make prints with your DIY stamps!
Stamp away. You will need a LOT of paper for this once they get started – I think my kids would have used an entire ream of paper if I had let them!!
Keep the conversation going with the children. Here are some questions to talk about as they make their prints:
Did the print look like you thought it would?
Does it change if you twist the tile around?
What does it remind you of?
What happens if you overlay one print on top of another?

There are so many different way to create interesting layers with this kind of stamps. For a simpler project, you can also print with only one color. I'll show you a use for the paper in a minute!
Even the tools look pretty at the end.
Step 5. Collage Garden Art
At the end of all this printing there will most likely be some prints that look beautiful as is with their multiple layers of printing. However, if like us, you end up with hundreds of sheets of pretty colorful paper. Why not use some of it to create something else?
This BONUS activity is a fun add-on after all the paint is dry AND a great way to use up all the paper.
We began by reading Planting a Rainbow by Lois Ehert.
Next, I gave each of the kids a sheet of brown corrugated paper for the base of their artwork. (You can also use a grocery bag, cardboard or regular sheet of paper.)
Then, lay all the printed paper out on the table along with scissors and glue. Encourage the kids to cut up the paper to create a colorful flower garden.
Plant your flowers in the brown garden soil by gluing cut shapes of the colorful stamped paper to the brown corrugated paper or paper bags that you are using to create a colorful recycled garden.
Happy spring art making to you!!
About the Author
Joanna Walker is the creator behind The Blue Barn which offers art experiences for children, and she teaches preschool art classes part-time. She's a mom to four children ages 13, 11, 9 & 7.
If you'd like to see more ideas from Joanna, you can check out her blog, Blue Barn Living. You can also follow her on Facebook, Instagram, and Pinterest. (Her favorite place to hang out online is Instagram because everyone there is always so positive and supportive of each other's creativity and there is SO much inspiration to be found.)
More DIY Stamps for Kids
Pin It For Later