Remember those heart shirts we made a few years ago with heart doily prints?
We really loved them!
So much so, in fact, that when Maia outgrew her shirt, I cut out the heart and sewed it onto a larger shirt.
We liked the contrasting colors of the old heart on the new shirt, so when I decided it was time to make another round of heart shirts, I thought I'd do it that way right from the beginning.
How to Make Heart Shirts for Kids With Printed Doilies (Redux)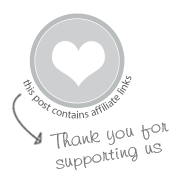 MATERIALS
INSTRUCTIONS
Doing it this way—printing on knit fabric (old t-shirts) and then cutting out the heart and sewing it onto a t-shirt—had the added bonus that we could select the heart prints that worked great and not stress about the ones that didn't.
Here are a few other things we did differently this time around ::
We used BioColor paint
as the fabric paint (mixed with a special BioColor fabric medium
). It worked great!
(But fabric paints work well, too, so if that's what you have (or want to pick up from the craft store) go for it!)
We also used uncoated white heart doilies this time—large ones that I think I found at Michael's in the wedding cake aisle.
The uncoated doilies seemed to accept more of the paint and more evenly than the coated doilies we had used last time, resulting in a better print.
Once the paint dried, I cut out around the heart prints with a loose scalloped edge. Then I pinned the heart onto the front of a couple of plain t-shirts. I then sewed around the edge, as well as around the inner heart in the doily design.
You could do this by hand if you preferred, or even just use some iron-on fusible webbing.
The Heart Shirts in Action
Here's Daphne in her heart shirt, drawing hearts on the chalkboard.
And Maia in her new heart t-shirt.
Plus, I couldn't resist sharing photos of the sisters at ages 1 and 5 wearing their heart shirts and then again three years later at ages 4 and 8. They just make me smile.
I love that we made these heart shirts early enough this year that they can get plenty of use before Valentine's Day! Not that my kids, especially the younger one, don't wear and love hearts year round…
By the way, if you want the step-by-step tutorial make sure to see my original post on how to make a heart doily t-shirt.
Pin It For Later