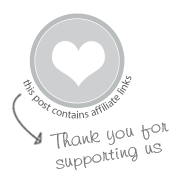 I wasn't planning to write a blog post about this Stampville rubber stamp set, but we've been using and loving these stamps so much that I just had to.
It all started in Washington D.C. when I picked up a Stampville set at the National Gallery of Art gift shop. I loved that it was a collection of stamps that could be used in a totally open-ended way, to build any variety of houses, buildings, cities, landscapes, and even cool abstractions.
Plus the packaging was top notch and I'm a sucker for good presentation.
It was a total impulse buy, but one that I have been very pleased with.
So I thought I'd share a bit about the stamp set with you (it's great for kids and adults), what we've been making with it, and also some ideas for making your own open-ended stamp sets.
Using Stampville Stamps to Build Houses (and Thank You Cards)
MATERIALS
*The Stampville set comes with blue and yellow ink pads, which we started out with, but we eventually wanted more colors and got out our big Melissa and Doug rainbow stamp pad.
Using the Stampville Set
You can use the individual stamps in different combinations to create different houses or scenes.
Basically, we just played around with the stamps and experimented with different ways of making houses, buildings, trees, suns, fences, towers, robots, and abstractions.
The little pamphlet provided in the Stampville set has some ideas and inspiration and shows you how to assemble some of the designs. It's helpful for getting started and showing you some of what is possible.
We tried a few of the ideas in the pamphlet and shown on the box, but mostly just made up our own buildings and scenes.
We really liked how you could use individual stamp components in different ways depending on what we were trying to do. A stamp could provide decoration for a house or be repeated to create a fence, for example. Another stamp could be used for chimneys, doors, tree trunks, roads, extra embellishment, etc.
Here is just some of what you can do with this stamp set.
Besides houses and buildings, you can use the stamps to make just about anything. Even space bots.
And complete abstractions.
What do you think? Pretty cool, huh?
We love the Stampville stamp set. I highly recommend it as a creative and open-ended rubber stamp set that can be used in such a variety of ways. The houses and buildings themselves are awesome. And obviously you can make other things as well.
Stamping Thank You Cards
We used our newly stamped house scenes to create thank you cards to send out after Christmas.
Daphne hand wrote her thank yous.
And Maia and I used our alphabet stamp set to write ours.
As you can see, we glued our stamped artwork onto colored construction paper, some flat, and some folded over into blank cards.
Again, this Stampville set is awesome, and I recommend it if you have $24 in your budget for it.
I haven't seen any other open-ended stamp sets like this on the market. If you know of any, will you leave a comment below and let me know about it? Thanks!!
UPDATE: I just wrote a post on 10 ways to make your own stamp sets. All are open-ended for creativity!
This is a total aside, but wouldn't it be cool if there were other architecture sets with different historic styles? Like one set with Art Deco details, one set with Classical columns and such, and one set with Gothic vaults and flying buttresses?
Pin It for Later