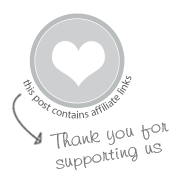 Aren't these beautiful?
Maia's been asking to make the sculpey nature prints again so we finally did another batch with all the spring blooming flowers we could find.
Clockwise from left :: dandelion, buttercup? (little yellow flower growing wild in our yard), miniature daffodil, and periwinkle (vinca).
Note :: This is the sculpey clay that we used.
Then we got out the playdough and used them as nature stamps by pressing our sculpey flowers and leaves into the soft playdough (actually homemade play clay–a recipe from MaryAnn F. Kohl's First Art). I was surprised at how well they worked as stamps / molds and how much detail the playdough captured!
I know I've shown you some photos, but I'm obviously in love with these right now and am going to show you a few more.
This is Lemon Balm.
Dusty Miller.
Grape Hyacinth.
I didn't think the thicker items came across as effectively in the sculpey, but once the sculpey was used as a nature stamp for the playdough, the thicker items were actually better than the more delicate ones.
Maia and I both loved these! We were oohing and ahing for at least an hour.
With both the sculpey nature prints and the playdough imprints (I'm still not sure what to call them), making them is fun and easy and the result is beautiful—the perfect combination of process and product in my mind!
NATURE STAMPS :: MORE IDEAS FOR KIDS
Pin It for Later ::