Create an amazing magic forest with this easy cardboard art project for kids. Makes a fun creative play setup for kids.
Here at Mini Mad Things we love creating crafty fun with household recycling.
Using our recycling for craft not only teaches resourcefulness, but it is also inexpensive. For a child approaching an art or craft project, I think it's much less intimidating to repurpose an old cardboard box rather than facing a pristine piece of paper. It helps free your little ones to just be creative rather than worry about getting it right.
This super simple cardboard Magic Forest makes the perfect backdrop to engage little one's imaginations. And it is a cheap alternative to buying expensive toys for small world play.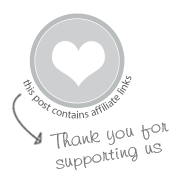 Magic Forest with Cardboard
MATERIALS
Thick corrugated cardboard – an old cardboard box would work well
INSTRUCTIONS
Draw your magic forest

Lay your thick cardboard out flat and use a marker to draw all the elements for the magic forest.

We drew lots of trees, flowers, mountains, toadstools, a little house and even man eating plants.

Don't worry too much about scale. I love that our forest includes trees that are as tall as mountains and toadstools as big a trees.



Add color

Color in all your drawings with markers or paints.



Cut out your magic forest elements

Once the paint has dried, cut out all the elements of your forest with a craft knife. (Adults please help with this.)

Make stands for your pieces

To make all the elements of the forest stand up, cut crescent shapes from the thick cardboard. Cut a slot into the top of each crescent approximately 2 cm long and the same thickness as your cardboard. Then cut the same sized slot into the base of your forest drawings.

For small items one stand should be enough, for larger items like mountains, add 2 stands to the bottom of your drawings.



Play!

Now set up your magic forest and begin to play!


The original idea for this project came from the CARDBOARD CITY that we created for our book UNBOXED: Adventures in cardboard. So If MAGIC FORESTS aren't your thing, you could try making a cardboard city, an Arctic ice landscape, a desert with sand dunes or maybe even an alien world from another planet!
More Cardboard Recycled Art Ideas for Kids
Pin It for Later