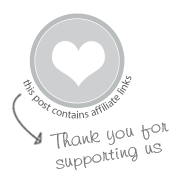 We love using recycled art materials for our art making, and especially like to use cardboard for kids art.
My kids call dibs on any cardboard box that comes through the house and use them for all kinds of creative ideas, including forts, dollhouses, trains, a fishing game, homes for their guinea pig, any kind of pretend play, and more.
Sidenote :: If you haven't read Not a Box by Antoinette Portis, you must check it out. Your library is sure to have it. Such a creative book!
Besides pretend play scenarios, using cardboard for art just makes good sense.
There's so much cardboard around us…
It's FREE…
It's sturdy…
And it's begging to be used.
So go rescue some cardboard boxes from the recycle bin and get creative with these art ideas…
12 Cardboard Art Ideas (2-D)
These are mostly 2-D art ideas using cardboard…
1. Self portraits on cardboard (on Meri Cherry)
2. Make textured paintings with cardboard (on Jennifer Rizzo)
3. Make and decorate a journal from a cereal box (on One Good Thing by Jillee)
4. Collage cardboard to make hanging hearts and abstract art
5. Nature shadow boxes (on Teach Preschool)
6. Turn a self portrait into a puppet (on Kids Activities Blog)
7. Collaged faces (on Mary Making)
8. Make your own cardboard stamps (on Housing a Forest)
9. Credit card art on cardboard (on Housing a Forest)
10. Use cardboard circles as suncatcher frames (on Art and Soul Preschool)
11. Painting with balls in a large box (on Kids Activities Blog)
12. Make abstract paintings with paper towel rolls and a box (on Casa Maria's Creative Learning Zone)
7 More Cardboard Art Ideas (3-D)
These are mostly sculptural art ideas using cardboard…
13. Create an artful birthday tree (on The Imagination Tree)
14. Building and creating with curves (by Teach Preschool for The Artful Parent)
15. Make a flower petal art box and suncatcher frames
16. Build and paint a box tower (on Meri Cherry)
17. Build your own art with a homemade cardboard construction set (on Happy Hooligans)
18. Color in your box! (on Berry Sweet Baby)
19. Getting 3-D :: painting boxes 
20. Plus, bonus!, here's how to make a portable cardboard easel and art caddy (on Maya*Made)
Do you have some cardboard boxes around your house that you could use for one or more of these kids art ideas?
And if you're ready to get serious about your cardboard use, here's a great article on Ikatbag on acquiring, storing, and working with cardboard… including all the different kinds of cardboard out there.
Pin It for Later