You can make Halloween suncatchers easily with paper plates, tissue paper, contact paper, and paint. They make great decorations for your windows!
Updated August 2022
These halloween suncatchers are super easy! Simply collage orange tissue paper onto contact paper in a paper plate frame to create a pumpkin. Then, add jack-o'-lantern face details with a marker or black paper.
What makes these extra fun is the paper plate frame: once your pumpkin suncatcher is made, you can use markers or watercolors to decorate it.
How to Make Halloween Suncatchers with Tissue Paper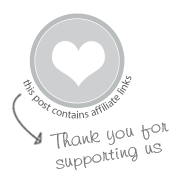 MATERIALS
INSTRUCTIONS
Cut paper plate frame and contact paper

Cut the center of your paper plate out to create your suncatcher frame. Then cut out circles from the contact paper, making sure they are slightly larger than the hole in the plate.
The circle on the contact paper should be about a half an inch larger than the hole in the frame, so that it will fit the opening and stick to the plate.

Attach the contact paper to the frame

Peel off the backing from the contact paper and stick it to the back of the paper plate.

Cut tissue paper shapes

Next, cut or tear pieces of orange tissue paper and stick them to the sticky side of the contact paper. Collage them so that they cover the entire circle.

If you'd like, cut out the pieces for a jack-o'-lantern face from black tissue paper. You can also use a sharpie to draw a face on the contact paper.



Add a second piece of contact paper

Once your design is finished, peel the backing off another piece of contact paper and press it onto the open side of your suncatcher. Press firmly all around so that it sticks to the plate and the design.

Decorate your frame

If you'd like, you can use markers or watercolors to decorate your paper plate frame in fun Halloween design.



Get your suncatcher ready to hang

Optional: Punch two holes in the top of your suncatcher and string a pipe cleaner or piece of string through the holes.


These are so fun and look great hanging in the window!
More Halloween Craft Ideas for Kids
Autumn Arts & Crafts Ideas & Supplies
Download our FREE printable idea list of 31 Halloween activities for kids & families! Or just check out the blog post with the links. So many fun ideas for Halloween!
And be sure to check out our FALL family fun list in our Amazon store! It includes supplies for fall arts & crafts, autumn toys, Halloween ideas, and picture books about autumn.
And if you want even MORE Halloween arts and crafts, check out our Halloween Arts and Crafts Workshop at the Kids Art Spot, our kids art club. You'll get 15 videos of fun and spooky art activities PLUS 17 Halloween-themed drawing prompts!
Pin It For Later